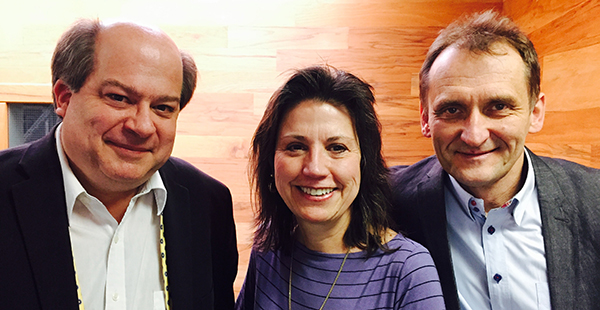 Several years ago, on a winter evening over a few glasses of wine, three wildly overbooked Boston musicians formed CASCABEL TRIO. Naming themselves after a notoriously hot pepper seemed fitting, and they have been warming audiences ever since with their lyricism, virtuosity, and heat.   Their program will include trios by Smetana and Dvorak. Cascabel Trio's program will include: Loeillet's Trio Sonata; Dvorak's Piano Trio in G Minor, Op. 15; and Smetana's Piano Trio No. 3 in F Minor, Op. 65.
Janice Weber, Pianist
Janice Weber  is a  summa cum laude graduate of the Eastman School of Music.  She has performed at the White House, Carnegie Hall, Wigmore Hall, National Gallery of Art, and Boston's Symphony Hall. She has appeared with the Boston Pops, Chautauqua Symphony, New Jersey Symphony, Hilton Head Orchestra, Sarajevo Philharmonic, and Syracuse Symphony.
Her  world premiere recording of Liszt's 1838 Transcendental Etudes elicited acclaim from  Time Magazine.  Miss Weber recorded Liszt's last Hungarian Rhapsody, one of only two living pianists to be included in a compendium of historic performances by nineteen legendary artists. This disc subsequently won the International Liszt Prize.
Her recordings also include Rachmaninoff's complete transcriptions; with the Lydian Quartet, Leo Ornstein's vast Piano Quintet; flute and piano works of Sigfrid Karg-Elert; and waltz transcriptions of Godowsky, Rosenthal, and Friedman.  She is a member of the piano faculty at Boston Conservatory and MIT.
Piotr Buczek, Violinist
Piotr Buczek was born in Chorzow, Poland.  He began violin studies at the age of eight and graduated from the Karol Szymanowski Academy of Music, receiving a Diploma of Art with special distinction.
He was a founding member of the Penderecki String Quartet, with whom he has made eleven recordings. Mr. Buczek was assistant to Ralph Evans of the Fine Arts Quartet in Milwaukee and has worked with Pinchas Zukerman, Yo Yo Ma, Ursula Oppens, and Shlomo Mintz. While at the University of Maryland, he worked with Arnold Steinhardt and John Daley of the Guarneri Quartet.
He has performed throughout Europe, Asia, and the Americas. Mr. Buczek appears regularly with the Boston Modern Orchestra Project and the South Coast Chamber Players. He teaches at the Rivers School in Weston.
Timothy Roberts, Cellist
Mr. Roberts is an active chamber musician, teacher, and orchestral player who tours nationally and internationally in addition to his numerous appearances throughout New England. He has performed with the Smithsonian Chamber Players in New York and Washington DC and recorded with them for Deutsche Harmonia Mundi. He has toured with the Brandenburg Ensemble, with the contemporary group Alea III to Greece, and with the New England Ragtime Ensemble under Gunther Schuller.
He has performed with the Boston Symphony Orchestra, the Boston Pops Esplanade Orchestra, the Florida Orchestra, Rhode Island Philharmonic, Pro Arte Chamber Orchestra, Portland Symphony, New Hampshire Symphony, and many years as a member of the Opera Company of Boston. He plays a Gabrielli cello from Florence, made in 1751.