Irish Stepdancing continues to be a wildly popular art form for performers and audiences alike. Ogunquit Performing Arts celebrates this unique style of dance at this most appropriate time of year. The award-winning Stillson dancers, returning to Ogunquit by popular demand, will perform a brilliant array of jigs and reels, dressed in a variety of dazzling, hand-made costumes.
The performance will consist of both the fluid soft shoe style as well as the rhythmic hard shoe popularized by shows such as Riverdance and Lord of the Dance.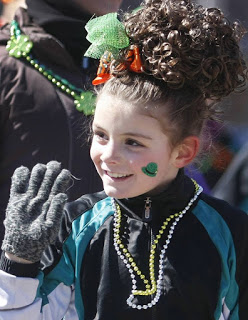 At the end of the performance, the dancers will invite children and the young at heart to join them onstage to learn or try out some steps. A reception with refreshments will conclude the evening.
The Stillson School of Irish Dance is under the direction of the celebrated dancer/teacher Carlene Moran Stillson ADCRG/TCRG. She is accredited by Ad Coimisium in Dublin, Ireland and a member of IDTANA (Irish Dancing Teacher's Association of North America). Carlene has a long tradition of dancing having started at age 4. She has competed in the New England Regional, North American, and World Championships.
In existence for more than 20 years, the Stillson School is the only certified school of Irish dancing in the state of Maine and its dancers compete all over New England and place in the New England Regional Irish Dancing Championships annually, and in competitions around the world.
In addition to the dance performance, Carlene Stillson will tell about the history of the dance and explain the reasons for the design of the many different costumes worn by the dancers. Traditional Irish dress is represented in the school dress which features embroidery designs taken from the Book of Kells.
The Stillson School of Irish Dance also has an active show team which has performed throughout New England as well as on the Ellipse lawn of The White House. They have been featured dancers accompanying such renowned Celtic performers as Solas, Cherish the Ladies, Trinity Dance Company, Liz Carroll, Billy McComiskey and Mick Moloney, and Eileen Ivers.