The traditional music of New England can be as warm and comforting as a winter fire or as potent and exhilarating as a summer thunderstorm. Fiddler and singer Lissa Schneckenburger is a master of both moods: a winsome, sweet-voiced singer who brings new life to old ballads and a skillful, dynamic fiddler who captures the driving rhythm and joy of dance tunes old and new.
"Schneckenburger's [fiddle] playing is…quietly virtuosic…her voice is pure and clear, full of simple emotion."   All Music Guide
"World-class fiddler… far from just offering one dance tune after another, simple settings allow the true beauty of the music to shine through."
Sing Out
"…lovely singer and literate, catchy songwriter.." — Scott Alarik, Boston Globe
"To me, folk music is anything that creates a feeling of community," Lissa said. "Music that people want to sing along to, dance to, fall in love to… music that brings people together. These songs are part of all of us …"
Whether playing interpretations of ancient or contemporary music, Lissa brings to the stage enthusiasm, energy, and the bright future of New England's musical traditions.
Lissa has performed on tour at the Silkeborg Dance Weekend in Denmark, the Shetland Folk Festival in Scotland, Celtic Connections in Glasgow,  and the Festival international des arts traditionels in Quebec.
She also has performed in the following festivals:  Celtic Classics Festival, Bethlehem, PA;  Festival of American Fiddle Tunes, WA;  Newport Irish Festival, Newport, RI;  Champlain Valley Folk Festival, VT; and New Bedford Summer Festival, MA.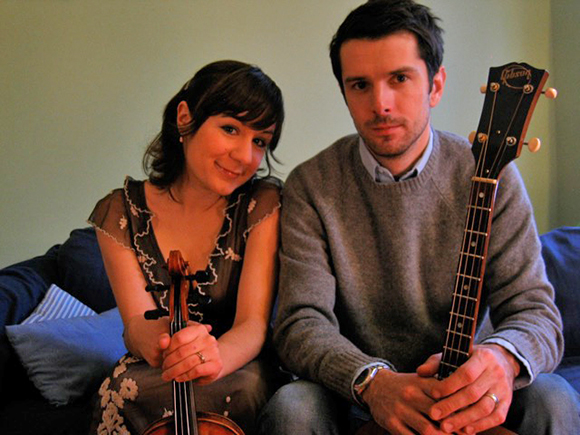 Double-bassist Corey DiMario is one of the most sought after accompanists in the acoustic music scene. He has performed at major festivals and concert venues across North America, Europe and Australia.
A diverse musician, Mr. DiMario adds rock solid, low-end accompaniment and driving rhythm to any musical situation. A founding member of the string band sensation Crooked Still, DiMario brings a diverse musical palette and energetic approach to an ensemble.  Most recently, Mr. DiMario was in the"house band" for Bela Fleck's New York Banjo Summit featuring banjoists Tony Trischka, Bill Keith, Pete Wernick, Eric Weissberg, Richie Stearns, Noam Pikelny and of course Bela Fleck.
Corey DiMario received his undergraduate degree in Jazz Performance from the New England Conservatory in 2001 and is a free lance musician in Brattleboro, VT. He previously studied at the Eastman School of Music in Rochester, New York. He has studied privately with John Lockwood, Cecil McBee, Paul Bley, John Abercrombie and James Van Demark.
With engaging stage presence and masterfully-crafted music, Boston-based Matt & Shannon Heaton offer well-travelled Irish music from the heart. Steeped in sessions in County Clare and brewed in the acoustic music scenes of Chicago & Boston, their flute/guitar/bouzouki instrumentals and sweet husband-and-wife harmony singing draw deeply from the Irish tradition.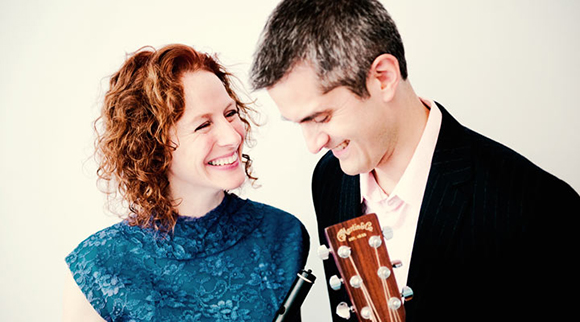 The Heatons also gently incorporate the Thai music Shannon learned in school as a kid and rootsy Americana sounds that surrounded them during their three years in bluegrass-haven Boulder, Colorado.
Since their move to Boston in 2001, the Heatons have become an integral part of Boston's vibrant trad music scene. (Shannon co-founded the Boston Celtic Music Fest in 2003.)
'Their playing is masterful and inventive, their arrangements city-smart and spacious.'  Boston Globe
Shannon was named 2016 Massachusetts Cultural Council Traditional Artist Fellow. The Irish American News dubbed her Female Musician of the Year (2009) and Live Ireland nominated her Female Musician of the Year 2010 and 2011. She's been compared to Alison Krauss and Altan's Mairéad Ní Mhaonaigh for her combination of vocal grace and instrumental prowess on Irish flute, whistles and accordion. She is also an acclaimed arranger and composer, and has published two instructional Irish music books.
In addition to his acclaimed work as an Irish accompanist on guitar and bouzouki, Matt has also received multiple Massachussetts Cultural Council Grants for his work with kids (he's got two CDs of original rockabilly-tinged music for children and discerning parents). He fronts surf-rock band Electric Heaters and also holds a master's degree in classical guitar. For his creative chording and driving grooves, Matt has been called "a combination of Bill Frisell and Arty McGlynn."
Matt and Shannon are poised, passionate American performers with Irish roots and universal appeal. They are comfortable onstage and have a warm connection with their audiences. They move listeners with their love of traditional music (and each other), and their sense of adventure and fun in exploring new directions and possibilities.
TICKETS:  $18 in advance; $20 at the door; $5 Student.  Available through this website beginning April 23rd.