Ogunquit Performing Arts welcomes back local country stars Joyce Andersen and Harvey Reid, for an evening of classic country music in a program entitled   "Keep on the Sunny Side"- A Celebration of Classic Country Music.   Joining Joyce and Harvey will be the the Knotty Pine Boys All-Star Band, as these talented musicians showcase a spectacular evening of old-time favorites: country, bluegrass, folk, blues, Celtic, and ragtime.
Harvey Reid and Joyce Andersen are life-long musicians with deep roots in a wide range of American music. Between them they have made over 30 albums including folk & blues, country & Americana, and jazz & bluegrass. They have traveled the country and the world playing their original takes on American music as well as their own songs. For this performance, they are joined by members of the Knotty Pine Boys playing steel guitar, bass, and drums, a rousing combination which has packed in the crowds in local venues.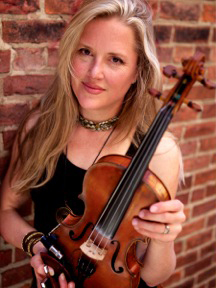 Joyce Andersen is a veteran musician who has enjoyed a varied 20-year career as side-gal, session player, singer-songwriter, and band leader. Her live shows and recordings showcase her versatility as a vocalist and violinist who thrives on writing and interpreting songs across many genres from old-time, rock & Americana, to folk, pop, & swing. She started getting critical acclaim and radio play in the folk world with her first full length CD "The Girl I Left Behind" (2000) for its songwriting, breadth of styles and her unique ability to harmonize her vocals with her violin.