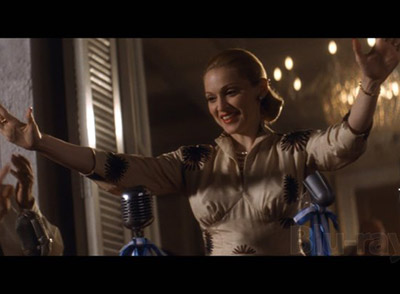 A lavish movie version of the highly successful musical by Andrew Lloyd Webber and Tim Rice, Evita is the story of Argentina's most controversial First Lady, Eva Perón (1919 – 1952.) Her awe-inspiring funeral, attended by seven million devoted followers, is the opening to the musical, with the narrator then bringing the story back by over a decade, explaining how a B-movie actress became the object of such controversial devotion.
Evita stars Madonna in the title role, with Jonathan Pryce and Antonio Banderas. Directed by Alan Parker and written by Parker and Oliver Stone, the film production of Evita was as extravagant as the subject matter; the 84-day shoot involved 93 full cast members, over 40,000 extras, and totaled out at over 60 million dollars. A replica of the Peron palace was under construction in London, since shooting had been forbidden at the original location. However, Madonna was able to persuade Argentina's President Menem to grant access to Casa Rosada for the famous balcony scene.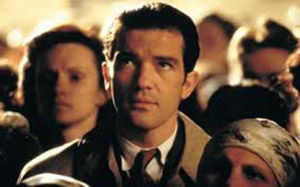 At a benefit to aid the victims of an earthquake, rural-girl-turned-actress Eva Duarte (Madonna) meets Colonel Juan Perón (Jonathan Pryce), an ambitious politician with designs on the presidency. They fall in love and Eva encourages his plans to become dictator of the country, even using her star power to get him released from prison when his enemies order his arrest. On February 24 1946, Perón is elected president with a huge majority, but it quickly becomes apparent that it's his glamorous wife who's the focus of the people's love.
Affectionately nicknamed 'Evita' by her millions of devoted followers, Eva founds a huge charity to alleviate the suffering of the nation's poor. Throughout it all, the beautiful first lady is dressed in the latest high fashion and she is accused of being a distraction for the people, rather than an aid, by the embittered and cynical narrator (Antonio Banderas.) With millions of people still utterly devoted to her, Evita continues to appear in public, dazzling her supporters and enfuriating her enemies, despite being secretly consumed with terminal cancer. At the end of the musical, she dies, aged 33, resulting in hysterical mourning throughout Argentina.
Evita was nominated for six Oscar®s, including nominations for Cinematography, Art Direction, and Editing. Lloyd Webber and Rice took home the Academy Award for Music (Original Song), for "You Must Love Me." The worldwide gross for the film totaled over 140 million.