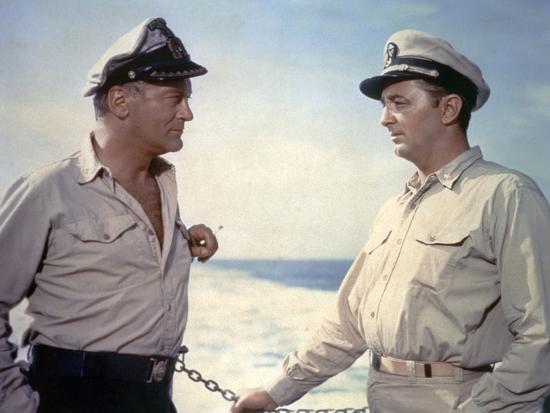 THE ENEMY BELOW (1957) is a war adventure film , which tells the story of the battle between an American destroyer escort and a German U-boat during World War II. Produced and directed by acclaimed actor, Dick Powell, the movie stars Robert Mitchum and Curt Jürgens as the American and German commanding officers, engaged in a prolonged and deadly battle of wits that tests both men and their crews. Each man grows to respect his opponent.The film was based on the 1956 novel by Denys Rayner, a British naval officer involved in anti-submarine warfare throughout the Battle of the Atlantic.
The film's destroyer escort USS Haynes (DE-181) was represented by the USS Whitehurst, filmed in the Pacific Ocean near Oahu, Hawaii. Many of Whitehurst's crewmen acted in the film; the phone talkers, the gun and depth charge crews,  and all of the men seen abandoning ship were real Whitehurst crewmen.
Robert Mitchum was an American leading man of enormous ability, who sublimated his talents beneath an air of disinterest.  A master of accents and seemingly unconcerned about his star image, he played in both forgettable and unforgettable films with unswerving nonchalance, leading many to overlook the prodigious talent he could bring to a project that he found compelling.
Director Howard Hawks remained unconvinced about Mitchum's self-proclaimed indifference towards acting, and confronted him on the set of "El Dorado", telling him, "You pretend not to care, but you really work very hard." Mitchum answered, "Don't tell anybody."
Actually, his craft and durability were achieved only through a lot of hard, private study. He learned how little the camera needed to be shown, and no one has matched his weary swagger. Unlike many, Mitchum realized that stillness and the ability to listen were the cornerstones of movie acting. He created his own sense of space and time, and offered the movie equivalent of a kind of jazz cool, a seamless fusion of thought and action.
Although underrated during his lifetime, Mitchum is now recognized as a master of the film art of stillness and underplaying. He appears on the American Film Institute's list of the top 25 greatest male stars of classic American cinema.