A Special Screening for Patriots' Day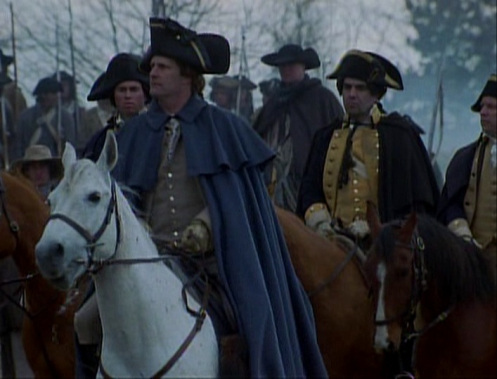 The Crossing is a historical TV film about George Washington crossing the Delaware River and the Battle of Trenton.  Directed by Robert Harmon, the film stars Jeff Daniels as George Washington.  Also appearing are Roger Rees as Hugh Mercer, Sebastian Roche as John Glover, and Steven McCarthy as Alexander Hamilton.
Adaptedby screenwriter Howard Fast from his own fact-based novel, this historical drama tells the story of one of the most unexpected triumphs of the American Revolutionary War.
The Crossing won a Peabody Award for excellence in 2000.
The film opens with the retreat of the Continental Army across New Jersey during the American Revolutionary War, after repeated losses and defeats during the campaign of 1776.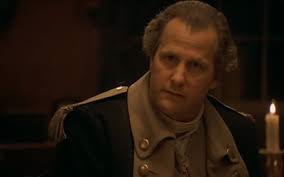 In December 1776, the armies of General George Washington  are near the point of collapse; short on money and supplies, ravaged by disease, their numbers thinned by desertion, and freezing in summer uniforms in the midst of a brutal winter, it seems all but impossible that the Colonial Army can hold out much longer against the British Army and their allied German Hessian forces.
After the army narrowly escapes across the river to the Pennsylvania shore, Washington meets with his officers. In possession of the only boats of any use on that stretch of the Delaware River, the army has a reprieve from further pursuit until the river freezes and they must retreat again, leaving Philadelphia open to capture.
Washington conceives a plan to cross the river and conduct a surprise attack on the Hessian garrison at Trenton. The situation makes the plan appear all but impossible to Colonel John Glover, but due to his loyalty to Washington, he agrees to take the army across. On Christmas night, the Hessians will be feasting and drinking, so the morning after, while still in darkness, the Continentals must take the fight to them while they are sluggish and hung over. The officers have only a few days to prepare their troops and weapons, and the soldiers, until it is time to cross, must be told no more than necessary.
Despite their own fatigue and the winter weather, Washington manages to lift his weary soldiers' spirits, allowing the army to cross the river on the night of December 25–26, 1776. The crossing is done in one night, allowing the troops to attack Trenton at eight o' clock in the morning on December 26, 1776, and achieve a stunning victory, capturing almost all the Hessian garrison.
Enjoy this film on the wall-sized screen of the
Dunaway Center, 23 School Street, Ogunquit.
Admission, Parking and Popcorn are free.