The Benny Goodman Story is a biographical film, starring Steve Allen and Donna Reed, directed by Valentine Davies and released by Universal-International in 1956. The film is based on the life of famed clarinetist Benny Goodman, who recorded most of the clarinet solos used in the film.
Lionel Hampton, Martha Tilton, Kid Ory, George Givot, Gene Krupa, Teddy Wilson, Harry James and many other musicians also made appearances in this film.
"Benny Goodman's swing music is so much a part of the familiar sounds of our times that just to hear it as Benny and his bandsmen used to play—and still do—is an experience of multiple charms."  New York Times
When a young Benny Goodman (Barry Truex) first starts taking music classes, he becomes very adept at the clarinet and gravitates towards ragtime and jazz. After playing for a few years, an older Benny (Steve Allen) gains the attention of critic John Hammond (Herbert Anderson), who champions the musician. Benny also meets John's sister, Alice (Donna Reed), and, although she initially dislikes jazz, Goodman wins her over. However, Benny's mother (Berta Gersten) does not approve of the match.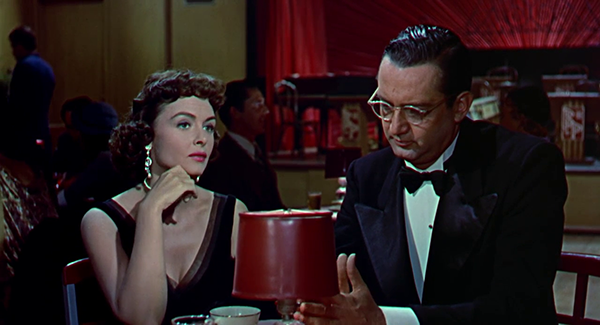 The "King of Swing" came to the screen as never before in the 1955 musical biography, The Benny Goodman Story. It's not that Benny Goodman had never appeared in a movie before. He had made ten at that point, nine as himself and one as a college professor in A Song Is Born (1948). But The Benny Goodman Story marked the first time he had been played by another actor, TV talk show host and comic Steve Allen.
Producer Aaron Rosenberg cast Allen, who bore a strong resemblance to the bandleader. In addition, Allen was an accomplished musician and songwriter, though he had to take lessons with Sol Yaged to learn how to mime playing the clarinet convincingly. Allen would also prove to be an accomplished actor in stage appearances and television guest shots.  Leading lady Donna Reed had only recently won an Oscar® as Best Supporting Actress for her performance in From Here to Eternity (1953).  Cast as Goodman's mother, the Polish-born actress Berta Gersten was a mainstay of the Yiddish theatre movement in New York and had starred in the pioneering Yiddish-language film Mirele Efros (1939).

And of course, the highlight of  The Benny Goodman Story, is its great music. On the soundtrack, Goodman played everything from swing and jazz to a Mozart clarinet concerto. In addition, the film featured an array of guest stars, including trumpeter Harry James and drummer Gene Krupa jamming on "Swing, Swing, Swing," vocalist Martha Tilton doing "And the Angels Sing," and such Goodman associates as Lionel Hampton, Stan Getz and Ziggy Elman. Other Goodman hits on the soundtrack include "Let's Dance," "Goodie Goodie" and "Memories of You," the latter serving as the romantic theme for Allen and Reed.
Enjoy this film on the wall-sized screen of the
Dunaway Center, 23 School Street, Ogunquit.
Admission, Parking and Popcorn are free.