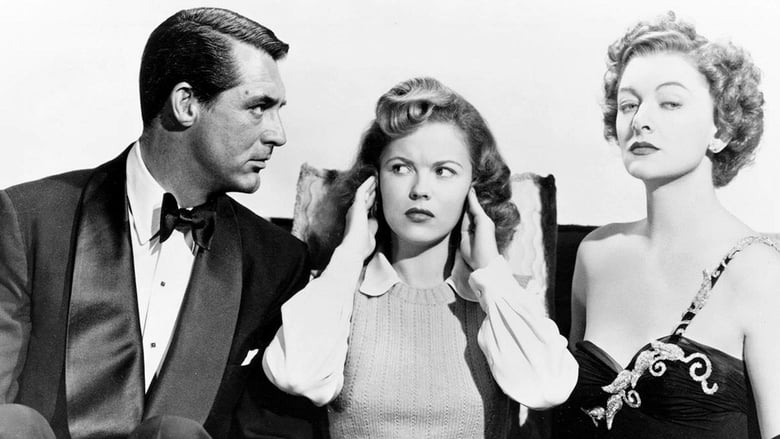 The infatuation of a teen-age girl (Shirley Temple) for a determined bachelor and ladies' man (Cary Grant) leads him into a reluctant but deepening relationship with her older sister and local court judge (Myrna Loy.)  The award-winning screenplay gives Loy and Grant fast-paced and delightful opportunities to make the most of the hilarious ensuing complications and entanglements.
Filmed in 1947, the production suffered many problems, including Grant's unhappiness with his fellow actors, with the director, and with the producer.  Fortunately, none of this unpleasantness showed up on the screen; in fact, the movie opened to wonderful reviews, which translated into an almost unprecedented 5.5 million dollars in ticket sales. To say that "The Bachelor and the Bobby-Soxer" carried RKO over into 1948 is no overstatement.
Despite the issues, Loy once again demonstrated her ability to achieve remarkable on-camera chemistry with her leading man; she and Grant  immediately were re-teamed for the studio's equally successful "Mr. Blandings Builds His Dream House" in 1948.
Myrna Loy was one of Hollywood's most popular actresses of the late 1930s and maintained that stardom for decades.  Originally typecast in exotic roles, often as a vamp, she achieved stardom following her portrayal of Nora Charles in "The Thin Man" series of 6 films, confiming her as an enduring favorite of movie audiences around the country.
During World War II, Loy devoted her time working with the Red Cross, and toured frequently to raise funds for the war efforts.  She was so fiercely outspoken against Adolf Hitler that her name was added to his "hit list."
Resuming a successful film and stage career in the 1950's, Loy also assumed an influential role as co-chairman of the Advisory Council of the National Committee Against Discrimination in Housing, and served as a member of the U.S. National Commission for UNESCO.  She continued as an actress through the 1980's, and received multiple major awards and honors.