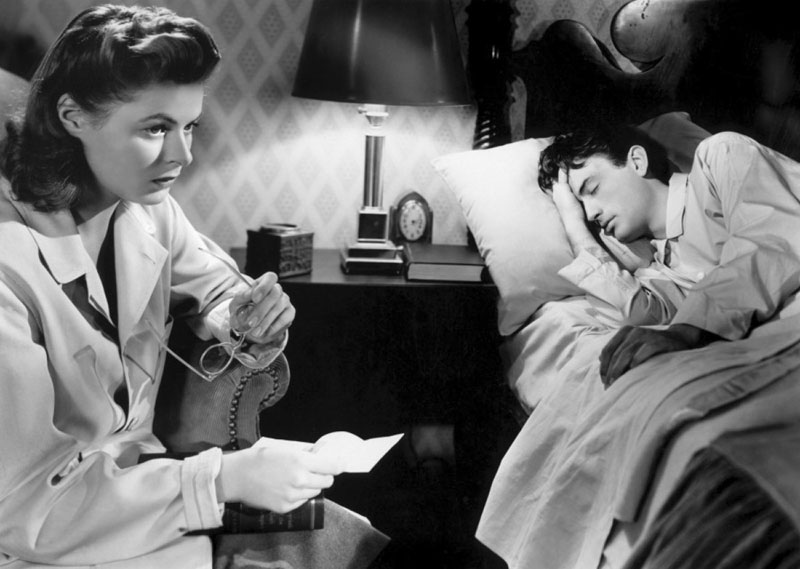 Spellbound, released at the end of 1945, stars Gregory Peck and Ingrid Bergman in this film noir, mystery, romance thriller, and also features supporting actors Michael Chekov and Leo Carroll, along with a now classic Hitchcock cameo.
In Spellbound, ahead of its time in its portrayal of a woman battling for authority in a man's world, romance blossoms between Dr. Constance Peterson (Ingrid Bergman) a psychoanalyst at a Vermont mental hospital, and Dr. Anthony Edwardes (Gregory Peck), who arrives to replace the outgoing director of the hospital. When Dr. Peterson discovers that Dr. Edwardes is an imposter, he confesses that the real Dr. Edwardes is dead and fears that he may have killed him, but has only disconnected snippets of memory. Dr. Peterson is convinced that Edwardes is innocent of the doctor's murder, and through psychoanalysis seeks to unravel his amnesia. The final solution is very clever and unpredictable.
Spellbound, one of Alfred Hitchcock's more undervalued movies, is shot with breathtaking black and white cinematography, is enhanced by a dream sequence designed by Salvador Dali, and underwritten by a spectacular music score by Miklos Rosza. Its artistry is memorable.
Directed by Alfred Hitchcock, the screenplay by Ben Hecht, was suggested by the novel "The House of Dr. Edwardes" by Francis Breeding. The movie received 6 Oscar nominations, and won the Oscar for Best Original Score.