Filmed pr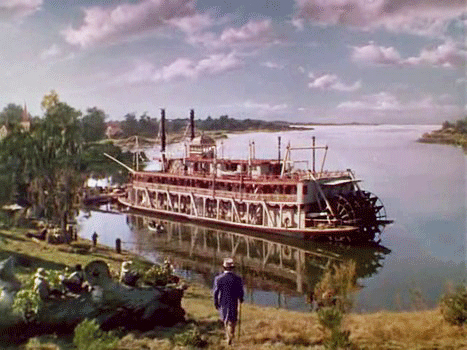 eviously in 1929 and in 1936,  this third adaptation of Jerome Kern's Show Boat was shot in Technicolor in the typical MGM lavish style in 1951, with a production spread out from the MGM back lot to the Mississippi itself.  Produced by Arthur Freed and directed by George Sidney, the film stars Kathryn Grayson, Ava Gardner, and Howard Keel,  with Joe E Brown,  Agnes Moorehead, and the sensational dancers Marge and  Gower Champion.  But arguably, the two biggest stars of the show are the magnificent baritone William Warfield,  and the Show Boat itself.  When the two get together for the finale reprise of "Ol Man River", the effect is memorable.
The original Show Boat is a 1927 musical in two acts, with music by Jerome Kern and book and lyrics by Oscar Hammerstein II.  Based on Edna Ferber's best-selling novel of the same name, the musical follows the lives of the performers, stagehands and dock workers on the Cotton Blossom, a Mississippi River show boat.
In doing research for her proposed novel Show Boat, writer Edna Ferber spent several weeks on the James Adams Floating Palace Theatre in Bath, North Carolina, gathering material about a disappearing American entertainment venue, the river show boat.   In a few weeks, she gained what she called a "treasure trove of show boat material, human, touching, true".
Jerome Kern was impressed by the novel, but when he first spoke to Ferber about his idea to create a musical from her novel, the author thought he was crazy.  The conventional musical theater during the 1920's was comparable to Vaudeville, with plotless revues, songs, dancing girls,  and comedic routines. Kern eventually convinced Ferber by explaining to her his plans for a revolutionary new approach to musical theater, an imaginative reinterpretation of what was appropriate subject matter for musicals. The result of his effort was the first true combination of music, lyrics, plot, and authentic characters in a theatrical work.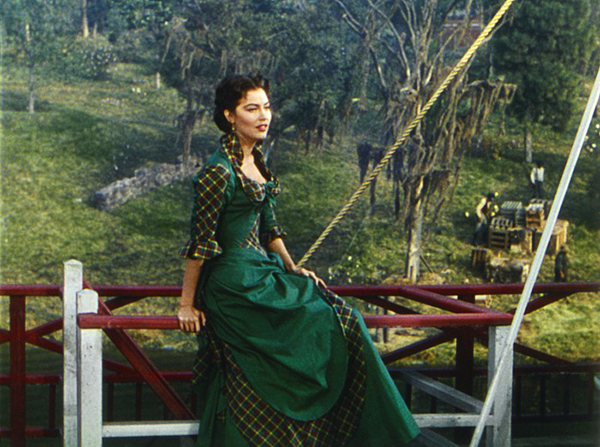 After composing most of the first-act songs, Kern and Hammerstein auditioned their material for producer Florenz Ziegfeld, thinking that he was the person to create the elaborate production they felt necessary for Ferber's sprawling work.  Ziegfeld was impressed with the show and agreed to produce it, writing the next day, "This is the best musical comedy I have ever been fortunate to get hold of; I am thrilled to produce it, this show is the opportunity of my life…"
The premiere of Show Boat on Broadway was a watershed moment in the history of American musicals. It was a radical departure in musical storytelling, marrying song, dance and spectacle with a serious and compelling plot.
Show Boat opened a new era, essentially paving the way for future theater.  The characters were far more three-dimensional and realistic, and the integration of music and plot was skillfully maneuvered. Perhaps most importantly, Kern and Hammerstein strove to focus on more elaborate and controversial  storylines.   Show Boat manages to investigate such topics as poverty, racial injustice, miscegenation, and unhappy marriages while remaining entertaining and musically beautiful.  This balance is an eternal legacy of the original production.
Awards for Broadway shows did not exist in 1927 when the original production of the show premiered, nor in 1932, when its first revival was staged.  But the quality of the musical was recognized immediately by critics and audiences then and now, –   and revivals of Show Boat, with its glorious music and timeless message, continue even to this day.
Enjoy this film on the wall-sized screen of the
Dunaway Center, 23 School Street, Ogunquit.
Admission, Parking and Popcorn are free.