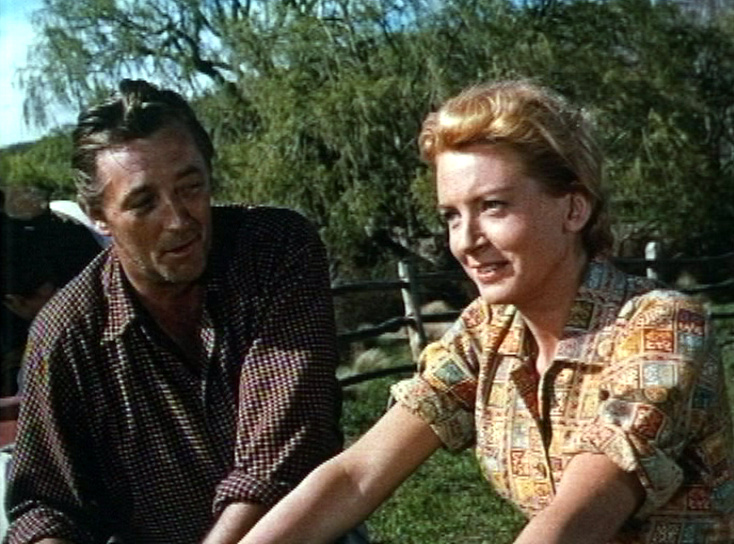 THE SUNDOWNERS (1960) charts the nomadic adventures of a family of Australian sheep drovers. Robert Mitchum and Deborah Kerr play a loving but imperfect married couple, Paddy and Ida Carmody, who disagree on their basic lifestyle. Weary of cooking over campfires, Ida desperately wants a roof over her head. Paddy would prefer never to sleep in the same place twice.
Mitchum once again proves his versatility by playing against type:  a good but willfully humble man determined to stay as he is.  Kerr matches his determination point for point, and the two, re-teamed for their second film together, deliver another remarkable complementary performance.  The film also stars Glynis Johns, Dina Merrill, and Peter Ustinov.
Sundowner is the Australian word for someone whose home is where the sun goes down.  For this epic tribute to the virtues of home and family, based on Jon Cleary's novel "Back of Beyond," director Fred Zinnemann took cast and crew halfway round the world to make one of the first Hollywood films shot on location in Australia.
For leading lady, Zinnemann's first choice was Deborah Kerr, who had shot to stardom when he cast her against type as an earthy adulteress in "From Here to Eternity" (1953). He originally wanted William Holden or Gary Cooper to play her husband,  but neither was available.
Robert Mitchum got the role instead, turning in one of his best performances. Zinnemann quickly realized that the star's lackadaisical attitude was merely a mask for his dedication to acting. Particularly impressive was Mitchum's ability to capture the Australian accent. But he did have a problem with shearing sheep. The screen tough guy was so worried about hurting the sheep he needed a few beers before he could do the scene.
Robert Mitchum was an American leading man of enormous ability, who sublimated his talents beneath an air of disinterest.  A master of accents and seemingly unconcerned about his star image, he played in both forgettable and unforgettable films with unswerving nonchalance, leading many to overlook the prodigious talent he could bring to a project that he found compelling.
Director Howard Hawks remained unconvinced about Mitchum's self-proclaimed indifference towards acting, and confronted him on the set of "El Dorado", telling him, "You pretend not to care, but you really work very hard." Mitchum answered, "Don't tell anybody."
Actually, his craft and durability were achieved only through a lot of hard, private study. He learned how little the camera needed to be shown, and no one has matched his weary swagger. Unlike many, Mitchum realized that stillness and the ability to listen were the cornerstones of movie acting. He created his own sense of space and time, and offered the movie equivalent of a kind of jazz cool, a seamless fusion of thought and action.
Although underrated during his lifetime, Mitchum is now recognized as a master of the film art of stillness and underplaying. He appears on the American Film Institute's list of the top 25 greatest male stars of classic American cinema.