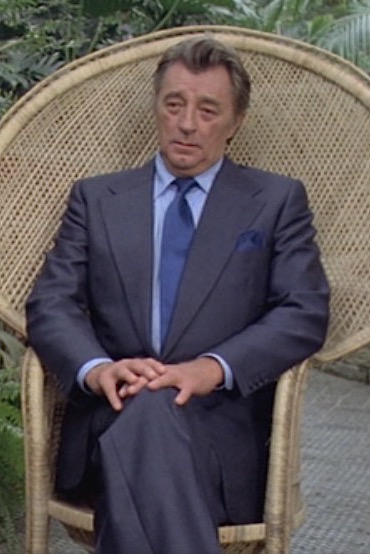 THE BIG SLEEP is a 1978 re-imagining of the Raymond Chandler classic.  Mitchum plays an older Philip Marlowe, now based in London, who  investigates a seemingly routine case of blackmail, but in the process uncovers a more sinister plot which spirals into murder and madness.  (This is Mitchum's second film portrayal of Philip Marlowe, having played the world-weary detective in 1975's neo-noir "Farewell My Lovely.")  The film also stars Sarah Miles, Candy Clark, Joan Collins, and Oliver Reed, with a special appearance by  James Stewart.
The film contains material more explicit than what could only be hinted at in the 1946 version with Bogart and Bacall, and includes much more original dialogue from the Chandler book.  Common to both versions is the notoriously complicated plot.
Philip Marlowe (Robert Mitchum) is asked by the elderly General Sternwood (James Stewart) to investigate an attempt at blackmail on one of his daughters. He soon finds that the attempt is half-hearted at best, and seems to be more connected with the disappearance of the other daughter's husband, Rusty Regan (David Savile). Rusty's wife seems unconcerned with his disappearance, further complicating the mystery. Only General Sternwood seems concerned as mobsters and hired killers continue to appear in the path of the investigation.
Robert Mitchum was an American leading man of enormous ability, who sublimated his talents beneath an air of disinterest.  A master of accents and seemingly unconcerned about his star image, he played in both forgettable and unforgettable films with unswerving nonchalance, leading many to overlook the prodigious talent he could bring to a project that he found compelling.
Director Howard Hawks remained unconvinced about Mitchum's self-proclaimed indifference towards acting, and confronted him on the set of "El Dorado", telling him, "You pretend not to care, but you really work very hard." Mitchum answered, "Don't tell anybody."
Actually, his craft and durability were achieved only through a lot of hard, private study. He learned how little the camera needed to be shown, and no one has matched his weary swagger. Unlike many, Mitchum realized that stillness and the ability to listen were the cornerstones of movie acting. He created his own sense of space and time, and offered the movie equivalent of a kind of jazz cool, a seamless fusion of thought and action.
Although underrated during his lifetime, Mitchum is now recognized as a master of the film art of stillness and underplaying. He appears on the American Film Institute's list of the top 25 greatest male stars of classic American cinema.