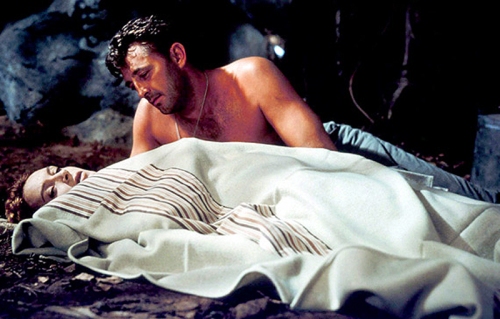 HEAVEN KNOWS, MR. ALLISON (1957) stars Robert Mitchum as an uneducated, self-reliant American marine who finds himself marooned on a Japanese-occupied island during World War II, along with a well-mannered, deeply religious Irish nun (Deborah Kerr) – with whom he forms a deep emotional bond that gradually blossoms into love. The palpable chemistry between Mitchum and Kerr, the marvelous cinematography, and Oscar-nominated screenplay by director John Huston and John Lee Mahin come together in a captivating survival saga that Mitchum would cite as his own personal favorite among his films.  He also would speak of Kerr ever after as his all-time favorite actress.
Deborah Kerr and Robert Mitchum were indeed a magical team.  The actress likened their work together to a perfect doubles pair at tennis.  Getting to know him in those first days on location on the island of Tobago, Kerr recalled finding herself "listening to an extremely sensitive, poetic, extraordinarily interesting man…a perceptive, amusing person with a great gift for telling a story, and possessed of a completely unexpected vast fund of knowledge…Bob was at all times patient, concerned, and completely professional."
The film was adapted by John Huston and John Lee Mahin from the 1952 novel by Charles Shaw. It was nominated for Academy Awards for Best Actress in a Leading Role (Deborah Kerr) and Best Writing, Screenplay Based on Material from Another Medium.
Robert Mitchum was an American leading man of enormous ability, who sublimated his talents beneath an air of disinterest.  A master of accents and seemingly unconcerned about his star image, he played in both forgettable and unforgettable films with unswerving nonchalance, leading many to overlook the prodigious talent he could bring to a project that he found compelling.
Director Howard Hawks remained unconvinced about Mitchum's self-proclaimed indifference towards acting, and confronted him on the set of "El Dorado", telling him, "You pretend not to care, but you really work very hard." Mitchum answered, "Don't tell anybody."
Actually, his craft and durability were achieved only through a lot of hard, private study. He learned how little the camera needed to be shown, and no one has matched his weary swagger. Unlike many, Mitchum realized that stillness and the ability to listen were the cornerstones of movie acting. He created his own sense of space and time, and offered the movie equivalent of a kind of jazz cool, a seamless fusion of thought and action.
Although underrated during his lifetime, Mitchum is now recognized as a master of the film art of stillness and underplaying. He appears on the American Film Institute's list of the top 25 greatest male stars of classic American cinema.