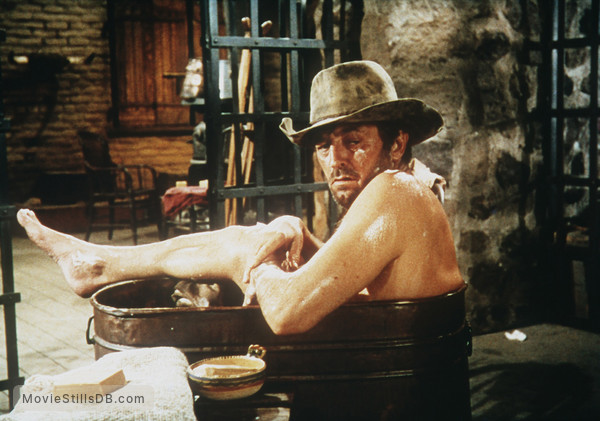 EL DORADO is a 1966 comedy Western film produced and directed by Howard Hawks and starring John Wayne and Robert Mitchum. The film is about an aging gunfighter who comes to the aid of an old friend, now a drunken sheriff, struggling to defend a rancher and his family in a range war.  The film also stars James Caan as Wayne's exasperating young sidekick who likes to quote appropriate stanzas from the Edgar Allan Poe poem, "El Dorado" at various points throughout the film.  Although the plot is very similar to a previous Hawks' film, "Rio Bravo," the director told Mitchum that the film was not about the plot; it was all about character development.
Roger Ebert awarded the film three and a half stars, stating: "El Dorado is a tightly directed, humorous, altogether successful Western, turned out almost effortlessly, it would seem, by three old pros: John Wayne, Robert Mitchum and director Howard Hawks."  The film was the only screen pairing between Wayne and Mitchum; though they both appear in "The Longest Day," they share no scenes in that film.
Robert Mitchum was an American leading man of enormous ability, who sublimated his talents beneath an air of disinterest.  A master of accents and seemingly unconcerned about his star image, he played in both forgettable and unforgettable films with unswerving nonchalance, leading many to overlook the prodigious talent he could bring to a project that he found compelling.
Director Howard Hawks remained unconvinced about Mitchum's self-proclaimed indifference towards acting, and confronted him on the set of "El Dorado", telling him, "You pretend not to care, but you really work very hard." Mitchum answered, "Don't tell anybody."
Actually, his craft and durability were achieved only through a lot of hard, private study. He learned how little the camera needed to be shown, and no one has matched his weary swagger. Unlike many, Mitchum realized that stillness and the ability to listen were the cornerstones of movie acting. He created his own sense of space and time, and offered the movie equivalent of a kind of jazz cool, a seamless fusion of thought and action.
Although underrated during his lifetime, Mitchum is now recognized as a master of the film art of stillness and underplaying. He appears on the American Film Institute's list of the top 25 greatest male stars of classic American cinema.