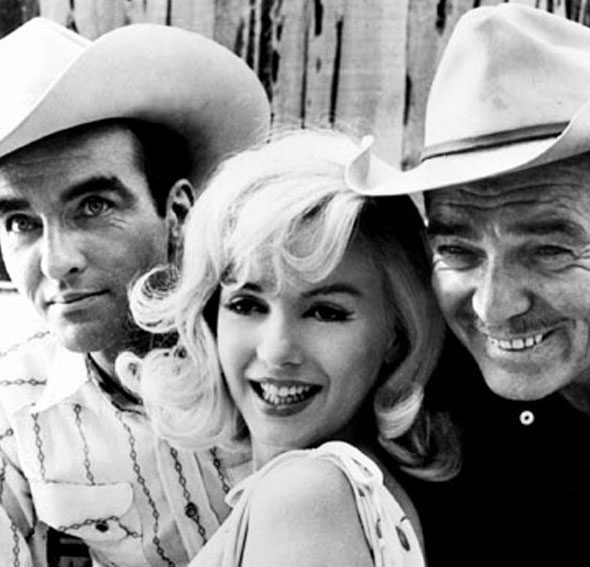 The film tells the dramatic story of a sensitive divorcee, who gets mixed up with three cowboys who are clinging to the ways of the past by roping mustangs in the 1960 Nevada desert.  Directed by John Huston, the film follows the difficult relationships among a newly divorced woman (Marilyn Monroe), her friendly landlady (Thelma Ritter), an over-the-hill cowboy (Clark Gable) with whom she falls in love,  the cowboy's tow truck-driving and plane-flying friend (Eli Wallach), and their rodeo-riding, bronc-busting friend (Montgomery Clift).
Adapted by Arthur Miller from his own short story of the same name, (as a vehicle for his then-wife Marilyn Monroe), the making of The Misfits was troublesome on several accounts, not the least of which was the breakdown of their marriage.  Nonetheless, the film received critical acclaim for its script and performances,and many critics now consider it to be a masterpiece.
Unhappily, this was the last film for both Gable and Monroe.  Gable became ill two days after filming and died ten days later.  Monroe and Miller were divorced within weeks after completion of the film; she died of a drug overdose 18 months later.
Born Norma Jeane Mortenson (June 1, 1926 – August 4, 1962), Marilyn Monroe spent most of her childhood in foster homes and an orphanage. Famous for playing comedic characters, she became one of the most popular sex symbols of the 1950s and early 1960s and was emblematic of the era's sexual revolution. She was a top-billed actress for only a decade, but her films grossed $200 million (equivalent to $2 billion in 2020) by the time of her death in 1962.  Long after her death, Monroe remains a major icon of pop culture.