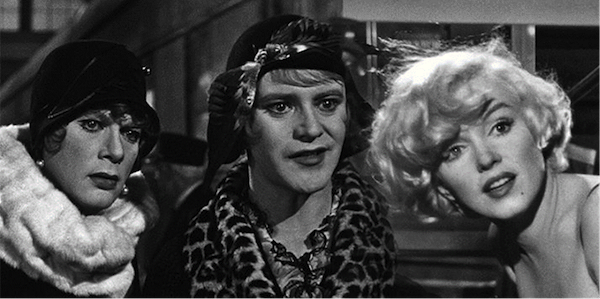 Filmed in 1959 and rated one of the all-time best films, this screwball comedy stars not only Marilyn Monroe but Tony Curtis, Jack Lemmon, Joe E. Brown, and George Raft. After witnessing a Mafia murder in Chicago, slick saxophone player Joe (Tony Curtis) and his long-suffering buddy, Jerry (Jack Lemmon), improvise a quick plan to escape from Chicago with their lives. Disguising themselves as women, they join an all-female jazz band and hop a train bound for sunny Florida. They remind themselves while vying for the attention of Sugar (Marilyn Monroe), that they are posing as women and cannot pursue her. The film initially met with mixed reviews due to the notoriety of the cross dressing at the time, although it won 4 Academy Awards.
Running the gamut from broad slapstick to sly sexual innuendo, Some Like It Hot was considered a risky venture when it was released in 1959. This was due to its outrageous sense of humor, which had the potential to offend viewers and risk being viewed as an exercise in bad taste. Yet it was also one of the most successful films of the year and continues to elicit wild laughter, even after repeated viewings. Director Billy Wilder, who was best known (at that time) for dark dramas like Double Indemnity (1944) and Sunset Boulevard (1950), elicited dead-on performances from Lemmon, Curtis (who also does a perfect Cary Grant imitation) and Marilyn Monroe.  Wilder mixed black comedy, nostalgia for the silent era, over-the-top physical humor, and a fine sense of period detail to achieve the funniest movie he ever made.
————————————————
Born Norma Jeane Mortenson (June 1, 1926 – August 4, 1962), Marilyn Monroe spent most of her childhood in foster homes and an orphanage. Famous for playing comedic characters, she became one of the most popular sex symbols of the 1950s and early 1960s and was emblematic of the era's sexual revolution. She was a top-billed actress for only a decade, but her films grossed $200 million (equivalent to $2 billion in 2020) by the time of her death in 1962.  Long after her death, Monroe remains a major icon of pop culture.