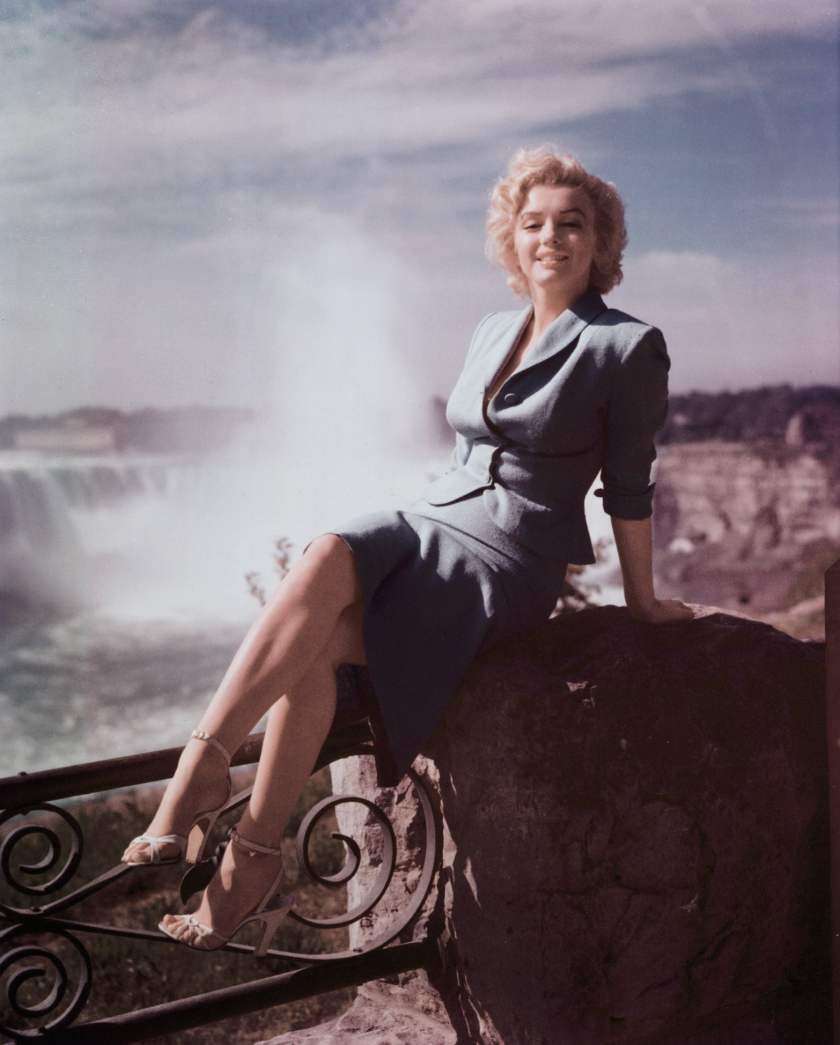 This film noir production, starring Marilyn Monroe, Joseph Cotten and Jean Peters, tells the story of an ordinary couple on an overdue vacation who witness the distressing and suspicious actions of another couple staying in a neighboring tourist cabin overlooking Niagara Falls.  Ray and Polly Cutler, on a delayed honeymoon, become unwillingly involved in the troubled and volatile marriage of George and Rose Loomis.  The incredible film scenery lends itself to this plot filled with illicit love and murder!
True to its title, the 1953 thriller in color spares no effort to make Niagara Falls the star of its suspenseful, sometimes spectacular story. The movie starts and finishes with dramatic images of the falls, emphasizing their power, beauty, and potential danger.  Making the falls a constant presence was the deliberate strategy of the filmmakers; almost every scene takes place in the immediate vicinity of the falls.
To make strong impressions in this setting, the human stars have their work cut out for them. The one who succeeds best is, not surprisingly, Marilyn Monroe as the wicked wife, giving a nicely controlled performance, blending the sultry and the sinister without upstaging or eclipsing her costars. They're gifted Hollywood actors:  Joseph Cotten plays the tormented husband and Jean Peters plays the honeymooning bride in a neighboring cabin – but they don't have the magnetism that made Monroe a unique screen personality.
Born Norma Jeane Mortenson (June 1, 1926 – August 4, 1962), Marilyn Monroe spent most of her childhood in foster homes and an orphanage. Famous for playing comedic characters, she became one of the most popular sex symbols of the 1950s and early 1960s and was emblematic of the era's sexual revolution. She was a top-billed actress for only a decade, but her films grossed $200 million (equivalent to $2 billion in 2020) by the time of her death in 1962.  Long after her death, Monroe remains a major icon of pop culture.