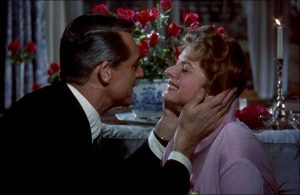 In this 1958 elegant romantic comedy from the end of the classic era,  Ingrid Bergman stars as  London stage actress Anna Kalman, who meets a man too good to be true.  International financier Philip Adams (Cary Grant) is smitten with Anna as well, and an affair begins despite the fact that he claims that he cannot obtain a divorce from his wife.
Anna is rich and famous, Philip is rich and important, and when they walk together a chauffeured Rolls Royce follows at a discreet distance, while the sparkling dialog flows like champagne.
The film is based on the play Kind Sir written by Norman Krasna, and is directed by Stanley Donen.