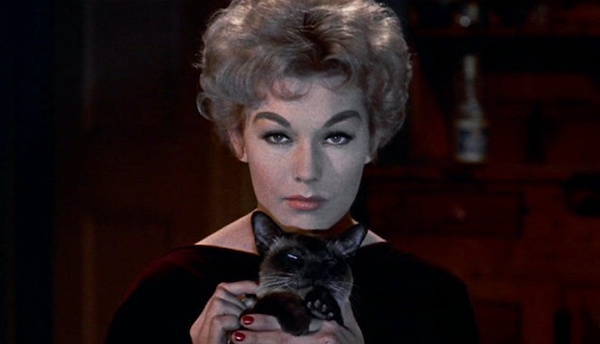 Bell, Book and Candle, released Christmas Day in 1958, stars Kim Novak and James Stewart, in this delightful fantasy romantic comedy, which also features supporting actors Jack Lemmon, Ernie Kovacs, Hermione Gingold and Janice Rule.
In this spoof on witchcraft, set in the late 1950s, Gillian (Kim Novak) is a modern day witch living in Greenwich Village, with her mindreading cat, Pyewacket (who steals every scene in which he appears). A bored and restless free spirit, with a penchant for wandering around barefoot, Gillian lives in a ground floor apartment next to her rare African Art store. During the Christmas Holiday season, she encounters her new neighbor, charming publisher, Shepard (James Stewart) who is living above her shop. When she discovers he is engaged to her despised former college rival, she decides to cast a love spell to make him fall in love with her, with the assistance of her bongo playing warlock brother (Jack Lemmon) and Pyewacket. However, as students of witchcraft know, witches lose their powers should they fall in love. And Gillian actually falls for Shepard…
Based on the early 1950s Broadway hit starring Rex Harrison and Lilli Palmer, the movie version of  Bell, Book, and Candle was adapted for the screen by Daniel Taradesch and directed by Richard Quine. It was the recipient of two Oscar nominations.