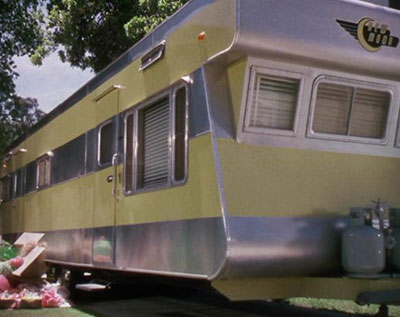 The Long, Long Trailer is a 1954 American road comedy film based on a novel of the same name written by Clinton Twiss in 1951 about a couple who buy a new travel trailer home and spend a year traveling across the United States.
The film stars Lucille Ball and Desi Arnaz, and features Marjorie Main, Keenan Wynn, and Bert Freed. The picture was directed by Vincente Minnelli, working from a screenplay by Albert Hackett and Frances Goodrich.
The Long, Long Trailer stars Lucy and Desi as an upwardly mobile couple who decide to buy a trailer so they can live together while his job takes him around the country. Thanks to their naivete in such matters, they end up with a huge 1953 36-foot Redman New Moon model, that costs five times what they planned. Their "seeing America" trip turns out to be a slapstick series of disasters, topped by Lucy's foolish decision to hide a heavy rock collection in the trailer as Desi tries to maneuver a treacherous mountain road through the Sierra Nevada mountains.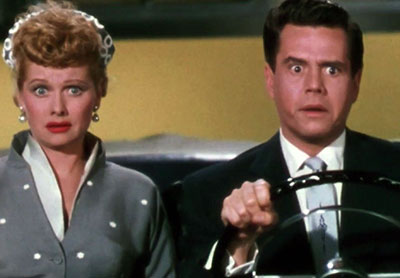 At MGM, the same team that had made Father of the Bride (1950), and its sequel, Father's Little Dividend (1951) – producer Pandro Berman, director Vincente Minnelli, and screenwriters Frances Goodrich and Albert Hackett – re-worked a non-fiction book about a middle-aged couple who spent a year traveling cross-country in a mobile home. By making them honeymooners, and making the husband Latin and the wife wacky, the script was perfect for the king and queen of television.
Arnaz, in fact, had tried to buy the rights to the book, but Berman had beaten him to it. At first, MGM executives wanted no part of it. because it was thought people would not pay money to see Lucille Ball and Desi Arnaz in a movie when they could watch the couple on television for free (I Love Lucy). Arnaz made a $25,000 bet with the studio that the movie would make more money than the current highest grossing comedy at that time (Father of the Bride, starring Spencer Tracy and Elizabeth Taylor, and also directed by Vincente Minnelli.) Arnaz won the bet.