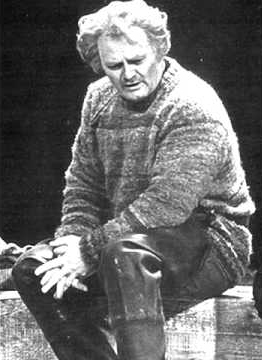 Peter Grimes is the work that established Benjamin Britten as a major musical force when it was first performed in 1945.  It is now universally acknowledged as one of the twentieth century's finest operas.  In this performance, world-great tenor Jon Vickers – internationally acclaimed for his portrayal of Grimes – heads a cast that gives vivid life to this powerful masterpiece. The atmospheric stage production co-stars soprano Heather Harper and baritone Norman Bailey, with massive orchestra and chorus conducted by Colin Davis.  It was filmed in London's Royal Opera House, Covent Garden.
"A subject very close to my heart—the struggle of the individual against the masses. The more vicious the society, the more vicious the individual."  Benjamin Britten
Peter Grimes was based on the narrative poem, "Peter Grimes" in George Crabbe's book The Borough, with libretto adapted by Montagu Slater. The tragic story revolves around the tormented title character, a fisherman who finds himself shunned by the rest of the fishing village, called the Borough.   At once the protagonist and the anti-hero, Grimes is gruff and unpopular, but the character is crafted with a certain degree of ambiguity.
His former apprentice died at sea, and although Grimes was cleared of any wrongdoing, the village still believes that he was responsible and are ever suspicious of him.  A tragic series of further events, fanning the flames of local gossip, convince the Borough that Grimes is a murderer.  They condemn and pursue him; he descends into madness as the mob approaches.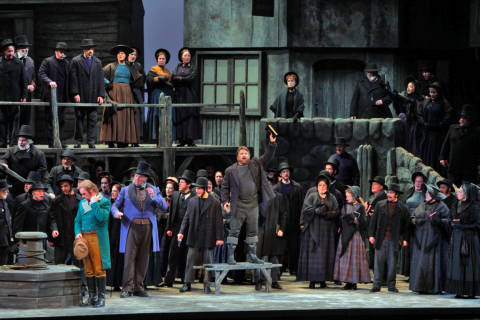 "Peter Grimes is a big opera with a very tight focus. There are huge choral scenes and a large cast of supporting players but the work holds fast to Grimes himself. Grimes is the ultimate outsider, one whom Britten associated with strongly. He's far from a hero, not even close, but he's no pantomime villain either. "Now the Great Bear", his startling Act II aria, reveals the wounded man beneath the menacing facade. This ambiguity runs throughout the piece, Grimes's nastiness set against the overwhelming mob-like behaviour of the townsfolk.
"Another major element is that of nature, the sea ever present in the drama and in Britten's music – and no more so than in the incredible orchestral interludes (music that is frequently heard in concert halls as the "4 Sea Interludes"). The town is dependent on the sea, fishing is how they make their living, but it is a dangerous bargain: they live by the sea and frequently die by it too, as we see with Grimes's successive apprentices.
"Peter Grimes is a tragedy from start to finish but it's also a masterpiece of musical theatre. The sheer force of the music lifting the narrative to realms rarely reached in 20th Century opera."     The Opera 101