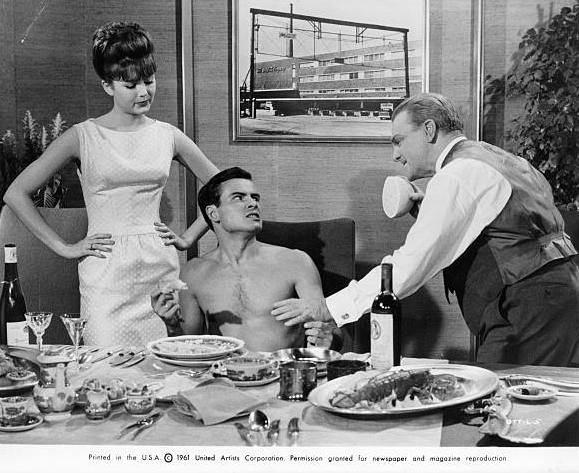 Pamela Tiffin watching as Horst Buchholz and James Cagney are about to get into a food fight in a scene from the film 'One, Two, Three', 1961. (Photo by United Artists/Getty Images)
One, Two, Three is a 1961 brilliant American comedy film directed by Billy Wilder,  and written by Wilder and I. A. Diamond.   The comedy stars James Cagney, Arlene Francis, Horst Buchholz, Pamela Tiffin and Lilo Pulver.    It was filmed in West Berlin and Munich in the summer of 1961.
The film is primarily set in West Berlin during the Cold War, but before the construction of the Berlin Wall. It  is known for its extraordinary fast pace, taking satiric aim at communism, capitalism, post-war Germany, corporate America, previous Cagney films, alligator shoes, and a host of other targets.
Billy Wilder wrote and/or directed a wide variety of pictures during his renowned career.   But he's probably best known for the stunning comedies he created with screenwriter I. A. Diamond.  One, Two, Three is a prime example, with a mile-a-minute script pitting Coca-Cola against Communism.
James Cagney's performance is a tour de force, delivering pages of script at dizzying speed.  In Cameron Crowe's book, Conversations with Wilder (Alfred A. Knopf), the director commented on Cagney's delivery, saying "We knew that we were going to have a comedy, we [were] not going to be waiting for the laughs. But we had to go with Cagney, because Cagney was the whole picture. He really had the rhythm, and that was very good…"
In the film, Cagney plays C.R. MacNamara, Coca-Cola's ambitious head of bottling in West Germany, who is determined to cut a deal to distribute Coke to the Russian market while at the same time desperately trying to prevent the boss's visiting flighty daughter (Tiffin) from marrying a card-carrying communist hippie (Buchholz), while under the disapproving eye of his own neglected wife (Francis).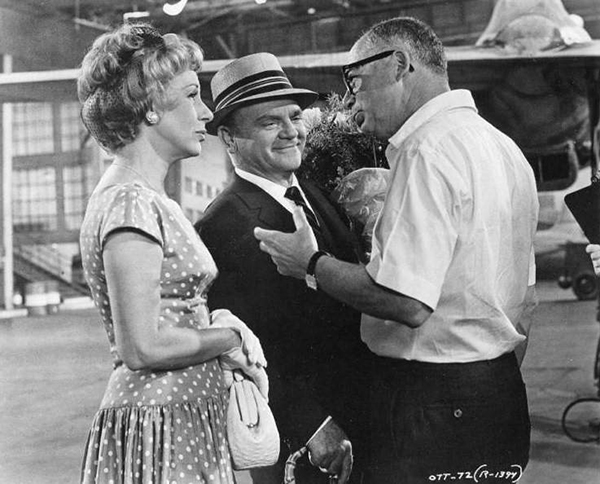 Then in his early sixties, Cagney was not initially certain he should take on the part.  On reading the script, he understood that the bulk of the film rested on his abilities and stamina.  And indeed, Wilder's insistence on breakneck, rat-a-tat-tat timing to each and every scene soon began to wear on Cagney, – especially on those occasions when the actor received pages of script only the night before, and then was expected to spit out a steady stream of complex dialogue while handling equally complicated stage direction.  Cagney was genuinely irked that Wilder demanded word-for-word perfection and wouldn't accept even the slightest bit of paraphrasing.
He was even more aggravated with Buchholz, the only actor whom Cagney, a consummate gentleman, ever openly disliked.   Said Cagney, "…this Horst Buchholz character I truly loathed. Had he kept on with his little scene-stealing didoes, I would have been forced to knock him on his ass, which I would have very much enjoyed doing."
Despite everything, Cagney achieved a triumphant performance and enjoyed a great success with this film.  However, One, Two, Three also would be his last film appearance until Ragtime  in 1981, 20 years later.
The film won kudos from the staff at Variety. They wrote, "Billy Wilder's One, Two, Three is a fast-paced, high-pitched, hard-hitting, lighthearted farce crammed with topical gags and spiced with satirical overtones. Story is so furiously quick-witted that some of its wit gets snarled and smothered in overlap. But total experience packs a considerable wallop."
Despite great reviews, and awards from the Academy, Golden Globes, and Writers Guild of America, One, Two, Three did not do well at either the U.S. or German box office. The lighthearted East-West Berlin story felt much more sinister at the release, since the Berlin Wall had been built after filming began.  (The building of the Berlin Wall began during the night of August 13, 1961, – right through the film set at the Brandenburg Gate.   The film team, discovering the change in the morning, had to move the production to Munich.)
One, Two, Three was also banned in Finland from 1962 to 1986 on "political" grounds — it was feared that the film would harm relations between Finland and the Soviet Union.  United Pictures Finland tried to get the film released theatrically in 1962, 1966 and 1969 but it was only in 1986 that the Finnish Board of Film Classification allowed the film to be distributed.
In a complete reversal of fortune, the film was also received enthusiastically in Germany upon its 1985 re-release in movie theaters.   One, Two, Three was given a grand re-premier at a large outdoor showing in Berlin which was broadcast simultaneously over television. The film went on to spend a year in the Berlin theaters as it was rediscovered by West Berlin citizens.