Cape Fear (1962)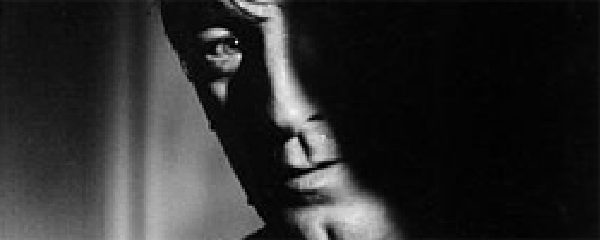 "In the annals of screen psychopaths, there are few who can top Robert Mitchum's portrayal of Max Cady in the 1962 version of Cape Fear.  A convicted sex offender who is released from prison after serving a six year sentence, Cady is a walking time bomb, biding his time until he can take revenge on the prosecutor who put him away.  Everything about him exudes menace, from his hooded eyes and insouciant sexual swagger to his smirking, undisguised contempt for everyone he meets.  Mitchum was born to play this role and he applies the same relentless intensity to the part that he brought to his portrayal of Harry Powell, the homicidal preacher from The Night of the Hunter (1955).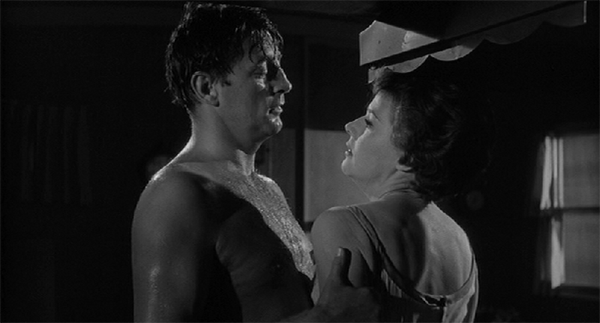 "Gregory Peck actually deserves the credit for casting Mitchum as Max Cady and taking the more low-key role of attorney Sam Bowden.  After buying the rights to the John D. MacDonald novel, The Executioners, Peck reassembled several previous collaborators who had served him well in the past, namely J. Lee Thompson, who had just helmed the enormously successful war adventure, The Guns of Navarone (1961), producer Sy Bartlett and screenwriter James Webb.  Initially, Rod Steiger and Telly Savalas were considered for the part of Cady but once Mitchum became a possibility, Peck pushed for his commitment.  At first Mitchum didn't want to do the film but finally relented after Peck and Thompson delivered a case of bourbon to his home. His reply, 'Ok, I've drunk your bourbon… I'll do it.'"   Jeff Stafford for TCM
Cape Fear also stars Polly Bergen, Lori Martin, Martin Balsam, Barrie Chase, and Telly Savalas.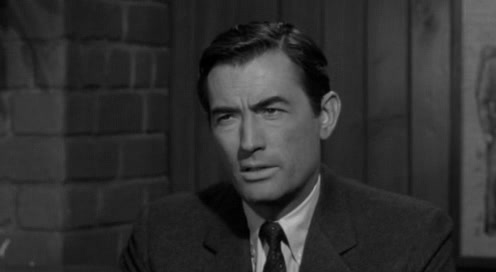 Thompson had always envisioned the film in black and white prior to production. As an Alfred Hitchcock fan, he wanted to have Hitchcockian elements in the film, such as unusual lighting angles, an eerie musical score, closeups, and subtle hints, rather than graphic depictions of the violence Cady has in mind for the family.
This scene where Mitchum attacks Polly Bergen's character on the houseboat was alleged to be somewhat improvised.  Before the scene was filmed, Thompson suddenly told a crew member: "Bring me a dish of eggs!"  Mitchum's rubbing the eggs on Bergen was not scripted and Bergen's reactions were presumably real.  While filming the scene, Mitchum cut open his hand, leading Bergen to recall: "his hand was covered in blood, my back was covered in blood. We just kept going, caught up in the scene. They came over and physically stopped us."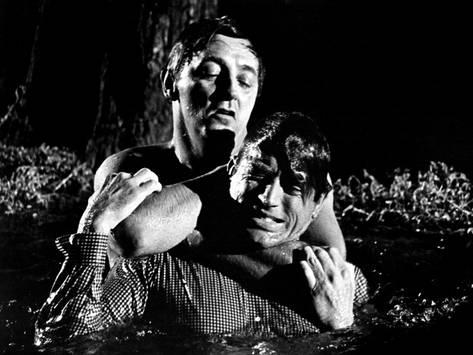 The Production Code Administration still wielded power in the film industry in the early sixties and Cape Fear was certainly a cause for concern for them. After reviewing the film, suggestions were made to remove several shots and references.   British censors demanded 161 cuts! Cape Fear was finally released there shorn of six minutes of footage.
Because of the film's disturbing nature, critical reviews were mixed.  Yet, the film's claustrophobic sense of impending terror and Mitchum's mesmerizing performance are hard to dismiss lightly, and the film is now recognized as a psy chological thriller masterpiece, eclipsing even the 1991 remake by Martin Scorsese.