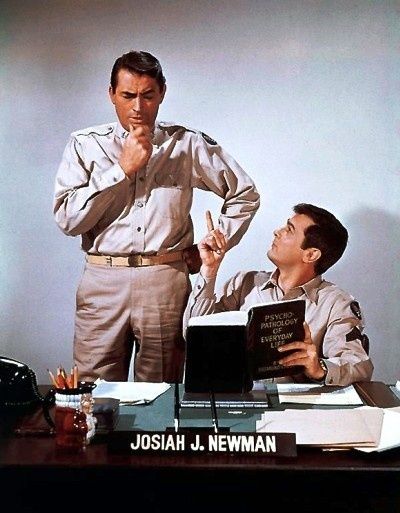 Captain Newman, M.D. is a 1963 American comedy/ drama film, directed by David Miller, and starring Gregory Peck, Angie Dickinson, Tony Curtis, Robert Duvall, Eddie Albert and Bobby Darin. Peck's Brentwood Production also co-produced the film.
The film is based on the 1961 novel by Leo Rosten. The book in turn was loosely based on the World War II experiences of Rosten's close friend Ralph Greenson, M.D., while Greenson was a captain in the Army Medical Corps supporting the U.S. Army Air Forces and stationed at Yuma Army Airfield in Yuma, Arizona. Greenson is well known for his work on "empathy" and was one of the first in his field to seriously associate posttraumatic stress disorder (years before that terminology was developed) with wartime experiences.
In the film, Captain Josiah Newman is head of the neuro-psychiatric Ward 7 at the Colfax Army Air Field (AAF) military hospital, located in the Arizona desert in 1944.
Treating shell-shocked, schizophrenic, and catatonic veterans, the doctor takes a back seat to his patients in Gregory Peck's portrayal as the conflicted Air Force psychiatrist. Now considered ahead of its time, the film focuses on the doctor's plight as he struggles to help men driven over the edge by the horrors of war, all the while tormented by the thought that curing his patients will inevitably mean sending them back into harm's way.
Using unconventional treatment tactics, Newman explains to a visiting VIP, "We're short of beds, doctors, orderlies, nurses, everything … except patients." Therefore, the doctor uses equally creative methods to recruit much needed personnel, including a new and very reluctant orderly Corporal Jackson Leibowitz, a wheeler- dealer from New Jersey (Tony Curtis).
Newman also takes great pains to court nurse Lieutenant Francie Corum (Angie Dickinson) on what she thinks is a date… until he asks her to transfer to Ward 7. After watching Newman's handling of an emergency situation and other patients on the ward, Corum transfers in.
Peck was looking for a follow-up to his Oscar® winning performance as small- town lawyer Atticus Finch in To Kill a Mockingbird (1962) when he chose to star as Capt. Josiah Newman. The role bore more than a passing resemblance to his tortured general in Twelve O'Clock High (1949), which had brought him the New York Film Critics' Award for Best Actor. But though the part may have looked good on paper, playing the eye of the film's psychiatric storm inevitably meant giving up the focus to the doctor's patients, in particular three tortured souls played, respectively, by Eddie Albert, Bobby Darin and a very young Robert Duvall.