Matt DeChamplain returns to Ogunquit to open the 28th Annual Capriccio Music Festival on Friday, September 7, 2018, at 7:30 pm in the Dunaway Center.  He previously performed here as pianist with the Jason Anick Trio, and again in a solo jazz piano concert.  This time, he brings his own trio with him, including guitarist Christopher Morrison and bassist Matthew Dwonszyk.
"Matt DeChamplain plays with amazing dexterity and superb taste while covering the history of jazz piano from ragtime and stride to modern."  Hartford Jazz Society
Matt's love of classic jazz inspires him to pursue a thorough musicianship that fuses traditional elements with modern jazz concepts.  His performance is rooted in that of the early jazz masters.
He is a favorite performer in the jazz clubs of Hartford and Southington, Connecticut,  with occasional gigs in Boston and New York.   Hear Matt play at www.mattdechamplain.com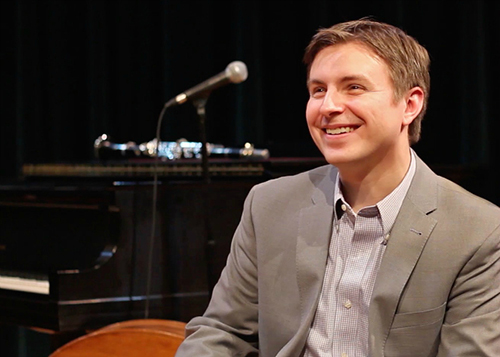 Matt DeChamplain is from Hartford, Connecticut. He obtained his bachelors degree from the Jackie McLean Institute of Jazz at the Hartt School in 2010 and graduated with his masters from the University of Toledo in Ohio in 2012. Matt has performed at the Berks Jazz Festival, New York's JVC Jazz Festival, Jazz at Lincoln Center, Django By The Sea Gypsy Jazz Festival and jazz clubs such as the Regatta Bar, The Side Door, Dizzy's Club Coca Cola, Smalls and Yoshi's.
In 2008, Matt was selected for the Betty Carter Jazz Ahead Program under the instruction of jazz luminaries Dr. Billy Taylor, Nathan Davis and Curtis Fuller culminating in three performances filmed live from the Kennedy Center in Washington D.C. That same year he was part of a group led by bassist Nat Reeves that played in Europe. In 2010, Matt participated as a semifinalist in the Martial Solal Jazz Piano Competition in Paris, France.
At the age of 16, Matt had had the privilege of playing three duets with Dave Brubeck in two concerts. Since then, Matt has shared the stage with Marion Cowings, Jimmy Cobb, Shawnn Monteiro, Nat Reeves, Steve Davis, Dezron Douglas, Javon Jackson, Arti Dixon, Jon Hendricks, Paul Keller, Avery Sharpe and Greg Abate. In concert settings, he has lead or been a part of groups that opened for Hank Jones, Dave Brubeck, Wynton Marsalis, Michael Wolff, Renee Rosnes, The Duke Ellington Orchestra and Clifton Anderson. As a sideman, Matt has appeared on albums by guitarist Norman Johnson, jazz violinist Jason Anick, and recorded several songs with vocal legend Jon Hendricks in 2013. Matt recorded a self-produced solo piano album titled "Stride-Bop" that sought to fuse the Harlem stride tradition with bebop and hardbop language. In 2015, he collaborated with his wife vocalist Atla DeChamplain on their first recording together titled "Pause." The independent album features a guest appearance by Hendricks.
Currently Matt holds a faculty position at The Hartt School of Music (University of Hartford) and has taught at The Greater Hartford Academy of the Arts, The Artist's Collective (founded by Jackie McLean), the Litchfield Jazz Camp and New Hampshire and Maine's Jazz All-State programs. While maintaining an active performance and teaching schedule, Matt continues to arrange and compose.
Christopher Morrison – Guitar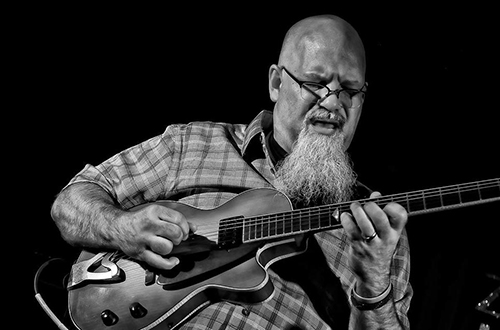 The son of jazz guitarist, Allen Morrison, Christopher Morrison began performing early on with New Haven, CT jazz organists Richard McCrae, Bobby Buster and Eddie Buster.  The training he received while working with these men made a lasting impression on Chris.  To this day, his playing and teaching style reflect the simple and practical approach that was used in his education.
Chris has recorded and or performed with Adam Nussbaum, Lew Soloff, John Patitucci, Joe Beck, Akiko Tsuruga, Chip Jackson, Joe Magnarelli, Bennie Wallace, Harvie S, Delfeayo Marsalis, Richie Cole, John Stowell, Gary Versace, and Ralph Lalama. Recently he has appeared with the legendary guitarist, Joe Diorio, as his guitar duo partner.  Chris's latest recording, with saxophonist Andrew Beals entitled "Maybe Someday", is on the Centaur record label.  Dr. Ken Ciuffreda of Just Jazz Guitar magazine wrote, "Chris produces one of the most beautiful sounds I have ever heard coaxed out of a jazz guitar – great phrasing, perfect musicality, warmth and expression –  all played effortlessly with seemingly unlimited technique."
Chris was fortunate to study with jazz guitarists Sal Salvador, Don Neary and Joe Diorio, arranger Bill Finegan and pianists Charlie Banacos and Mike Longo. He holds a Masters of Music degree in Jazz Performance from the Conservatory of Music at SUNY Purchase. His undergraduate studies, Bachelor of Music in Jazz Studies, were completed at The University of Bridgeport and Western Connecticut State University.
Chris is employed by Western Connecticut State University, Fairfield University and BackCountry Jazz where he teaches jazz guitar and small group jazz. He has earned several awards for his teaching including a Distinguished Adjunct Appreciation Award  and a Centennial Award for Excellence from Western Connecticut State University.
Matthew Dwonszyk – Bass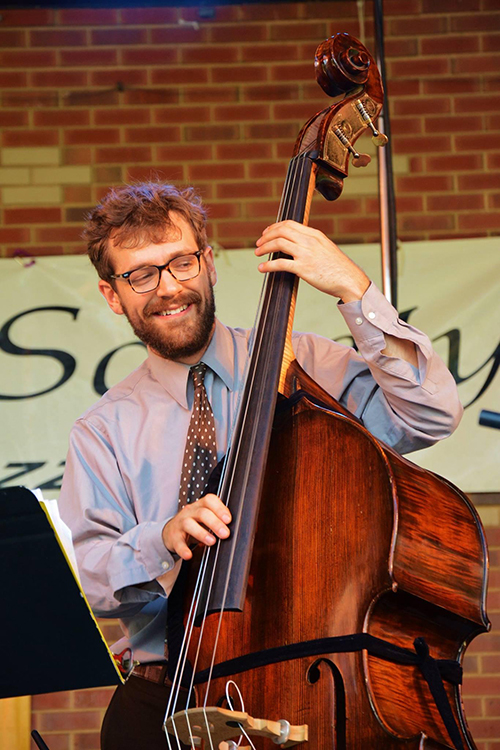 Born in Hartford CT, Dwonszyk started playing the electric bass at the age eleven. In high school, he picked up the upright bass while attending the Greater Hartford Academy of Performing Arts and soon started attending the Artist Collective after school program founded by the legendary Jazz Saxophonist/Composer, Jackie McLean.
Dwonszyk continued his collegiate studies at the Jackie McLean Institute of Jazz studying with world-renowned bassist Nat Reeves. He graduate and continued his studies at Suny Purchase where he received a Masters in Music in 2015. Dwonszyk currently lives in Brooklyn and is an active bassist in New York.
He has performed at the JVC Jazz Festival in NYC, the Baikal Jazz Festival (Yakutsk, Siberia), the NYC Winter Jazz Festival, Litchfield Jazz Festival, Hartford Jazz Festival, Jazz & Colors Festival (Metropolitan Museum of Art), The Kennedy Center, Smalls Jazz Club, Dizzy's Coca Cola Club, The Blue Note, Smoke Jazz Club and the Fat Cat. Dwonszyk has performed with Harold Mabern, Larry Willis, David Hazeltine, Anthony Wonsey, Rick Germanson, Pete Malinverni, Steve Wilson, Abraham Burton, Javon Jackson, Gary Smulyan, Bennie Wallace, Wayne Escoffery, Mike Diruboo, Myron Walden, John Farnsworth, Joe Farnsworth, Winard Harper, Joe Strasser, Eddie Henderson, Jumaane Smith, Wallace Roney, Terell Stafford, Steve Davis, Steve Turre, Freddie Hendrix and Duane Eubanks.