Boston Chamber Music – CANCELLED
Fri, Jun 12 @ 7:30 pm
$15 in advance; $20 at the door; $5 student
Event Navigation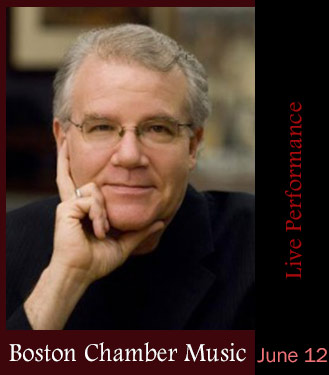 Boston Chamber Music returns to Ogunquit for their second Festival appearance, this time as a string trio. Led by acclaimed cellist Bruce Coppock, the trio on June 12th features Matthew Dunn-Vera, violin, and Sam Kelder, viola. Mr. Coppock continues the tradition of bringing together the finest ensembles especially selected for this concert. Their program once again is a celebration of the 250th anniversary of the birth of Ludwig van Beethoven:
BEETHOVEN: Celebrating Friends & Inspirations
String Trio Tryptich
SCHUBERT String Trio D 581
DOHNANYI Serenade, Op. 10
BEETHOVEN String Trio in c minor, Op. 9 no. 3
Tickets to this performance will go on sale May 15, 2020 on this website. Tickets may also be purchased at Ogunquit Camera Shop, Dunaway Center, Ogunquit Playhouse Downtown Box Office, and Ogunquit Welcome Center. Free parking for the performance is located behind the Dunaway Center.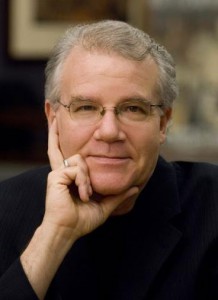 Bruce Coppock has enjoyed a career as a cellist, teacher and arts executive for over 40 years. He was cellist, co-founder and executive director of the Boston Chamber Music Society; principal cellist of the Handel & Haydn Society; cellist of the Boston Musica Viva. Throughout his career Coppock has maintained an active teaching life as a cellist and chamber music coach. Since 2013, he has led an intensive year chamber music course for gifted high schools students called QuartetLab in which students spend an entire year studying one piece of music in depth, with Coppock serving both as cellist and coach. This program will be relocated to the Rivers School beginning in fall 2019.
Coppock has held teaching positions at the Longy School of Music, Brown University, the University of New Hampshire, the Boston Conservatory and the New England Conservatory. He was Chair of the Music Division of the Boston Conservatory and subsequently chair of both the chamber music and orchestral studies departments at New England Conservatory. Since returning to the Boston area in 2016, he has re-joined the faculty of the Longy School of Music, is Chair of the Chamber Music Department at the Rivers School Conservatory and is a member of the Boston Philharmonic Orchestra.
Coppock served twice as president & managing director of the Saint Paul Chamber Orchestra, a position in which he served both as the artistic and the executive leader of the organization. Coppock first led the SPCO from 1999 until 2008, when he stepped down due to illness. During a five-year hiatus from the SPCO Coppock focused on medical issues, served a consultant to several orchestras, and served as managing director of the Cleveland Orchestra's Miami Residency, in addition to teaching chamber music at the University of Minnesota School of Music. Coppock returned to the SPCO in 2013, the highlight of which was being part of the leadership team that oversaw the construction and opening of a new 1100-seat purpose-built concert hall dubbed by the NYTimes as "acousticslly ideal.. . .a hall that allows clarity and detail in the playing to come through while providing orchestral resonance and bloom." He retired from the SPCO at the end of 2015.
Prior to Saint Paul, Coppock served as the founding director of the League of American Orchestra's Orchestra Leadership Academy, as deputy director of Carnegie Hall, and as executive director of the Saint Louis Symphony Orchestra from 1992-1997.
Coppock has also been active as a Board member, at the Harlem Boys Choir, the Interlochen Center for the Arts and the Board of Overseers at the Curtis Institute of Music. He currently serves on the Board of Directors of the Boston Philharmonic Orchestra and the Cholangiocarcinoma Foundation.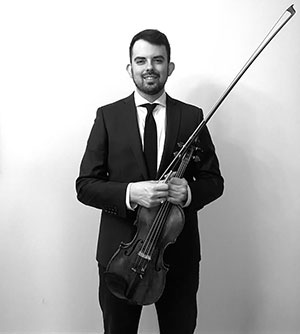 Violinist Matthew Dunn-Vera is known for his versatility as a soloist, chamber musician, and orchestral leader. Currently a masters student at the New England Conservatory, Matthew also enjoys a freelance career in the Boston area. His primary teachers include: James Buswell, Lucy Chapman, Mark Rush, Stephen Moeckel, Dennis Bourret, and David Rife. Matthew has been a member of the Boston Philharmonic's first violin section since 2010. He recently stepped in on short notice to play the famous violin solos in Ein Heldenleben at Boston Philhamonic concerts to widespread acclaim: "Playing with pure tone, terrific character, and not a bit of hesitation (several of the third movement's biggest runs were dispatched at lightning speed), Vera delivered an account of the solo part that was wholly captivating. His is — or should be — a bright future." (Boston Arts Fuse); "Matthew Vera projected non-stop, drop-dead gorgeous tone, alternately flippant and ravishing, as directed. A virtual golden spotlight enwreathed him in laurels." (The Boston Musical Intelligencer)
A native of Tucson AZ, Matthew made his solo debut on the viola with the Tucson Philharmonia at age 14. His early training came from a unique program called Tucson Junior Strings, an advanced training program serving southern Arizona. After numerous solo appearances and festivals, he made the switch to violin upon graduating high school. Matthew has appeared as soloist with the Buffalo Philharmonic, The Tucson Philharmonia, The Tucson Symphony, The World Youth Symphony Orchestra and The New England Conservatory Symphony. Matthew was featured on the PBS radio show "From the Top" in 2008 where he played Mozart's Sinfonia Concertante with the Buffalo Philharmonic. He has performed in many prestigious concert venues including The Royal Concertgebouw, Boston's Symphony Hall, NEC's Jordan Hall, and Carnegie's Weill Hall.
Matthew enjoys orchestral leadership, and is an avid chamber musician. While at NEC, his chamber music groups worked with most of NEC's string faculty including advanced training seminars with the Borromeo String Quartet. Matthew has participated in many festivals including The Tanglewood Music Center, Yellow Barn, The Heifetz Institute, The Brevard Music Center, and Green Mountain Music Festival.
Off the stage, Matthew is a devoted teacher. A participant in New England Conservatory's Community Partnerships Program, he discovered a true love for teaching. In addition to teaching at community schools, Matthew has a private studio.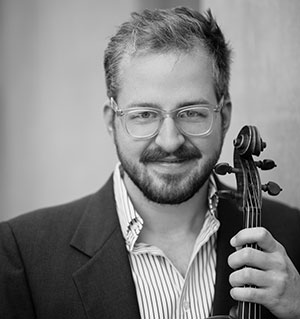 Violist Sam Kelder, described as "Dynamic and Committed" by the Boston Globe, performs regularly in New England with A Far Cry, Boston Modern Orchestra Project, Guerilla Opera, Callithumpian Consort, Sound Icon, as well as guest principal with Cape Cod Symphony, principal of Cape Cod Chamber Orchestra, Rhode Island Philharmonic, and the New Bedford Symphony. Kelder is core member of string trio Sound Energy, an ensemble dedicated to pushing the traditional violin-viola-cello combination to represent the bold voices of 20th and 21st century composers. He is also founding member of Shizuka Duo with violist Hannah Rose Nicholas, whose mission is to explore and expand the multifaceted sound-world of the alto pairing.
Kelder has also performed as the featured artist at Third Practice Electroacoustic Festival, as soloist at New York City Electroacoustic Music Festival, and as guest artist with the Arctic Philharmonic in Norway.
His studies yield a B.M. form the University of Houston and M.M. from Mannes The New School for Music. Sam graduated in May 2017 from Doctoral Studies at Boston University as teaching assistant to Michelle LaCourse. Major teachers and influences include Wayne Brooks, Karen Dreyfus, Kyung Sun Lee, Laurie Smukler, and Bayla Keyes.
Sam is unswervingly committed to the performance of new works, and has collaborated with many living composers, including Hans Abrahamsen, George Benjamin, Derek Bermel, Chaya Czernowin, Zosha Di Castri, Michael Finnissy, Beat Furrer, Georg Friedrich Haas, Philippe Leroux, Krzysztof Penderecki, Joan Tower, and more.
He can be heard on Not Art Records, and is an artist member of Music for Food. During the summer Sam is a viola teacher and coach for the students at Boston University Tanglewood Institute and at the Summer Institute for Contemporary Performance Practice.