Boston Chamber Music returns for its 18th year of opening the Festival. Clarinetist and Artistic Director Thomas Hill continues to bring together the finest ensembles especially selected for this concert, which this year will feature clarinet, 'cello and piano, performing the works of Beethoven, Brahms, and Fauré. The Boston Chamber Music's program will include: Beethoven's Trio in Bb major, Op.11; Brahms' Sonata in f minor Op. 120 #1 for clarinet and piano; Fauré's Après un Rêve, Impromptu in Ab, and Élégie, Opus 24, for 'cello and piano; and Fauré's Trio in d minor Op.120.
Thomas Hill, Clarinetist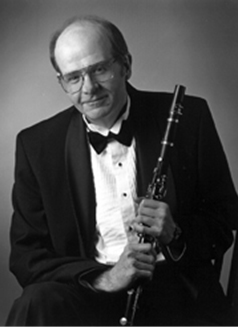 "Hill's performance was what we've come to expect from him –- beautifully controlled, technically strong, imaginative and musical."
—– The Boston Globe
…"among the best clarinetists anywhere."
—— The Boston Musical Intelligencer
Principal Clarinetist of The Boston Philharmonic from 1992 to 2015, Mr. Hill has also been clarinetist of the acclaimed Boston Chamber Music Society since 1983. He has appeared on innumerable concert and festival series, and has been widely engaged as soloist and ensemble performer under a variety of auspices since the beginning his career in New York and Los Angeles.
Mr. Hill is also served as principal clarinetist of The New Haven Symphony, The Long Beach Symphony, The Handel and Haydn Society Orchestra of Boston, The Mainly Mozart Festival Orchestra, The San Diego Symphony, and The Cascade Festival Orchestra in Oregon. He has appeared with both The Boston Symphony and The Boston Pops.
He holds both a Bachelor's and Master's Degree with Honors from The New England Conservatory. He also attended The Cleveland Institute of Music where he was a member of the class of the venerable Robert Marcellus.
Randall Hodgkinson, Pianist
Randall Hodgkinson has achieved recognition as a winner of the International American Music Competition for pianists sponsored by the Rockefeller Foundation. He has appeared frequently as soloist and chamber music artist in festivals throughout the United States, and as a featured soloist with major orchestras including those of Philadelphia, Atlanta, Buffalo, the American Symphony, the Orchestra of Illinois, and abroad in Italy and Iceland. His solo debut with the Boston Symphony Orchestra was presented both in Boston and at Carnegie Hall.
Mr. Hodgkinson studied at The Curtis Institute and the New England Conservatory. He has been an artist member of the Boston Chamber Music Society since 1983. While a member of Boston Musica Viva, he performed throughout the U.S. and Europe, and his recordings on several labels have brought him notable acclaim.
He also performs four-hand and two-piano literature in duo recitals with his wife, Leslie Amper. He is a member of the piano faculty of the New England Conservatory and Wellesley College.
Bruce Coppock, 'Cellist
Bruce Coppock has enjoyed a long musical career as performer, teacher and management executive.  He served twice as president & managing director of the Saint Paul Chamber Orchestra, a position in which he served both as the artistic and the executive director.  Coppock first led the SPCO from 1999 until 2008, when he stepped down due to illness. After a five-year hiatus during which Coppock focused on medical issues, served a consultant to several orchestras, and served as managing director of the Cleveland Orchestra's Miami Residency, Coppock resumed his tenure in Saint Paul in 2013.  He retired from the SPCO at the end of 2015.  Prior to Saint Paul, Coppock was deputy director of Carnegie Hall and executive director of the Saint Louis Symphony, and has happily retired to New England.
During the 20 years prior to 1990, Coppock served as principal cellist of the Handel & Haydn Society, as a member of the Boston Musica Viva and played regularly in the Boston Symphony Orchestra.  Coppock co-founded the Boston Chamber Music Society.   During this period he also served as the director of chamber music and orchestra activities at the New England Conservatory of Music, and was director of the Music Division of the Boston Conservatory of Music.  Coppock has been active as a teacher for over 40 years.  Coppock earned his Bachelor's and Master's degrees in cello from the New England Conservatory, where he was a student of David Soyer and Laurence Lesser.