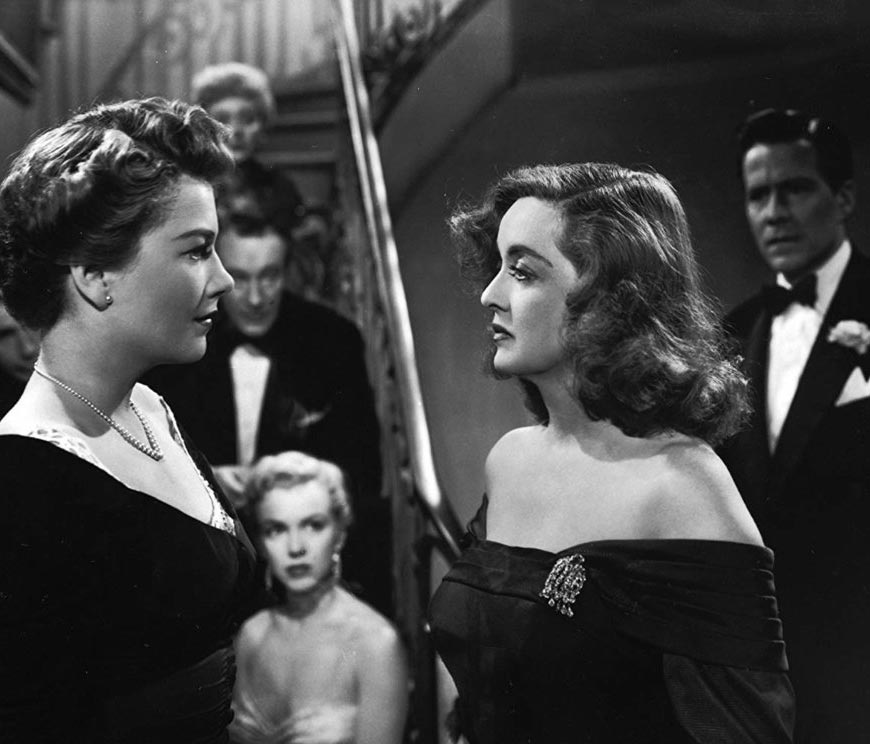 All About Eve is a 1950 American drama film written and directed by Joseph L. Mankiewicz and produced by Darryl F. Zanuck, It was based on the 1946 short story "The Wisdom of Eve" by Mary Orr.
The film stars Bette Davis as Margo Channing, a highly regarded but aging Broadway star. Anne Baxter plays Eve Harrington, an ambitious young fan who manoeuvres herself into Channing's life, ultimately threatening Channing's career and her personal relationships. The film co-stars George Sanders, Celeste Holm, and features Gary Merrill, Hugh Marlowe, Thelma Ritter, and Marilyn Monroe in one of her earliest roles.
Zanuck's first choice for the leading role was Marlene Dietrich, but Mankiewicz though her too artificial to being Margo to life. His choice was stage star Gertrude Lawrence, but her agent made several unrealistic demands. In desperation Zanuck placed a call to Bette Davis, then considered box-office poison after a string of flops. The two had not spoken in years, the result of a feud when she resigned as president of the Motion Picture Academy® in 1942. In fact, when he called her on the set of her current film, Payment on Demand (1951), she thought it was a prank. After convincing her he really was Zanuck and was offering her a role, he told her that she would have to have her costumes fitted and be ready to shoot on location in ten days. Once she read the script, she was more than happy to oblige.
As soon as word of her casting got out, Mankiewicz got calls from directors who had worked with Davis warning him that she would try to take over the picture. The one exception was William Wyler — who had directed her in Jezebel (1938), The Letter (1940), and The Little Foxes (1941). He congratulated Mankiewicz on his good fortune and assured him that he'd enjoy working with her, a prediction that proved correct.
20th Century-Fox set a record for Oscar® nominations with All About Eve that has been matched (by Titanic in 1997) but never beaten. Greeted with almost universal acclaim on its initial release, the film has become a classic whose lines, characters and story elements are now firmly entrenched in popular culture.