Building on the artistry and talent of pianist Fred Moyer, (who will open the 15th Annual Elizabeth Dunaway Burnham Piano Festival on Saturday, October 8,)  this collaboration between Moyer and Greater Boston based bassist, oboist, and composer Evan Palmer, and Pennsylvania native drummer Bob Savine, has given birth to a jazz group which can safely be called the only jazz group of its kind. The trio dazzles with stunning musicianship and a unique approach to jazz. Unlike other small jazz ensembles who reliably perform their own arrangements of standards from the Great American Songbook, what sets this trio apart is its detailed note for note transcriptions of great jazz trio performances from the past. Painstakingly transcribing every note of favorite historic recordings, and then bringing the resulting scores to life as would a chamber music ensemble playing Bach or Beethoven, infusing the music with their own vitality and interpretations. The result is a celebration of the best in jazz, delighting both classical music lovers and long-time jazz enthusiasts.
Other collaborators, Evan Palmer and Bob Savine, contribute their abundant talents and well developed skills and originality, as performers, arrangers and composers.
Bassist, oboist and composer Evan Palmer, based in the Greater Boston Area specializes in music in the Black American tradition, particularly jazz, avant-garde and other improvised music.  A graduate of the Berklee College of Music, Evan studied with John Lockwood, Francisco Mela, Linda May Han Oh and many others. He has performed throughout New England and recorded with John Dalton's Spheres of Influence, Shinya Lin, and others, as well as with his own group, where he performs his own compositions as well as the music of other great composers, such as Andrew Hill and Eric Dolphy.
Drummer Bob Savine, based in the Greater Boston area, also studied at Berklee College of Music., as well as at Penn State University. Over a long career, he has partnered with many of the well-known jazz greats, including Mike Metheny, Herb Pomeroy, Dick Johnson and the Artie Shaw Orchestra. He has performed at the Montreal, Telluride, and Saratoga Jazz Festivals. Bob is currently on staff at Wellesley College, where he accompanies and coaches student ensembles.  
From the publication jazz.com,  critical Praise for the Trio:  "An important addition to the jazz genre…inspiring to behold…these performances stand on their own, no less legitimate than brilliant performances of Beethoven or Mozart by contemporary classical masters."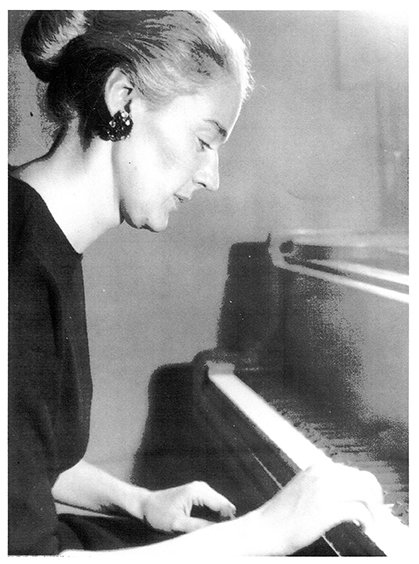 Elizabeth Dunaway Burnham
The Annual Piano Festival honors the memory of Elizabeth Dunaway Burnham, founder and first chairperson of Ogunquit Performing Arts.  A pianist herself, Betty studied, performed and taught piano for most of her life.  She also saw to it that OPA acquired its spectacular Steinway Concert Model C Grand Piano, which still remains OPA's greatest treasure.
Betty had been a piano student all her life, receiving music degrees from Smith College.  She continued piano studies for many years, working with  Estelle Broussard of Dunbarton College in Washington, D.C. and William Masselos, noted concert pianist and faculty member at Julliard School of Music in New York City.