Following a triumphant performance for OPA in October 2021, concert pianist Frederick Moyer returns this season for two concerts by popular demand. His program on October 8 includes a variety of classical composers, climaxed by Rachmaninoff's Rhapsody on a Theme by Paganini – with full orchestra!
Frederick Moyer has entertained audiences in more than 44 countries- in such international venues as the Sydney Opera House, Suntory Hall in Tokyo, Windsor Castle, with orchestras in London, Hong Kong, Singapore, Brazil, and Iceland- and across every region in the U.S. ranging from Boston, NYC, Baltimore and Washington D.C. to St. Louis, Indianapolis, and Milwaukee to Dallas, Houston and Los Angeles.
His performances exhibit an affinity for a wide variety of styles in both classical music and jazz, and his relaxed and witty commentary from the stage engages audiences in the heart of the musical experience.
Moyer's wide ranging interests have resulted in the use of technology often with software he has written himself. An avid computer programmer and inventor with multiple patents, Moyer has created innovative concerts that redefine traditional piano recitals. His MoyerCam gives the audience a view of the hands and keyboard from almost any seat in the audience. His USolo software enables him to play piano concertos in recital with orchestral accompaniment synchronized to his interpretations, as he will do with this performance.
Critical praise from the New York Times refers to his work as "First class…His playing is clean, unmannered, and full of ideas and intelligence."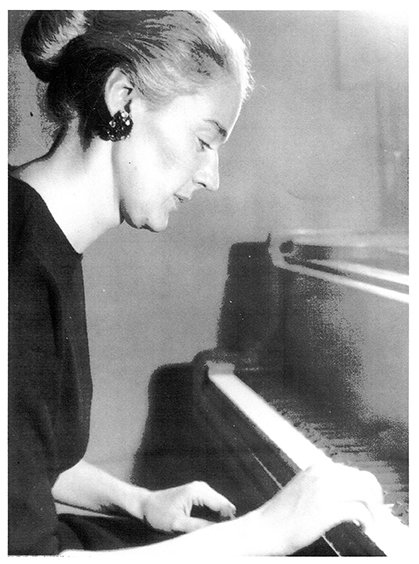 Elizabeth Dunaway Burnham
The Annual Piano Festival honors the memory of Elizabeth Dunaway Burnham, founder and first chairperson of Ogunquit Performing Arts.  A pianist herself, Betty studied, performed and taught piano for most of her life.  She also saw to it that OPA acquired its spectacular Steinway Concert Model C Grand Piano, which still remains OPA's greatest treasure.
Betty had been a piano student all her life, receiving music degrees from Smith College.  She continued piano studies for many years, working with  Estelle Broussard of Dunbarton College in Washington, D.C. and William Masselos, noted concert pianist and faculty member at Julliard School of Music in New York City.