Click button below to purchase advance tickets. 
TICKETS
Concert pianist Frederick Moyer has excited and delighted audiences in 44 countries — from the Sydney Opera House to Windsor Castle to Carnegie Recital Hall to the Kennedy Center. His performances exhibit impeccable training and exacting artistry in both classical music and jazz. Inventive technological enhancements, well-chosen programs and his relaxed verbal introductions help the audience get into the heart of the musical experience.
An avid computer programmer and inventor with multiple patents, Fred has created innovative concerts that redefine the piano recital. His MoyerCam gives the audience a view of the hands and keyboard from virtually any seat. His USolo software allows him to play piano concertos in recital with orchestral accompaniment synchronized to his interpretations, – as he will do in this concert with the gorgeous Tchaikovsky Piano Concerto and the Stuttgart Symphony Orchestra.
MR. MOYER'S PROGRAM
Chopin: Waltz in E-flat Major
Mendelssohn: Fantasy in F-sharp Minor, Op.28
Rachmaninoff: Two Preludes, Op. 23
Wilder: Two Piano Pieces
Tchaikovsky: Piano Concerto #1 in B-flat Minor, Op. 23 Stuttgart Symphony Orchestra, Emil Kahn, conductor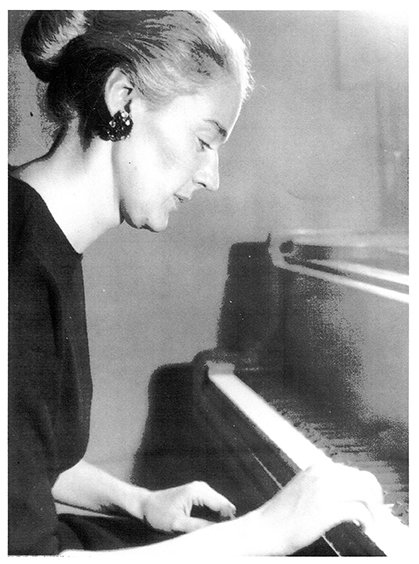 Elizabeth Dunaway Burnham
The Annual Piano Festival honors the memory of Elizabeth Dunaway Burnham, founder and first chairperson of Ogunquit Performing Arts.  A pianist herself, Betty studied, performed and taught piano for most of her life.  She also saw to it that OPA acquired its spectacular Steinway Concert Model C Grand Piano, which still remains OPA's greatest treasure.
Betty had been a piano student all her life, receiving music degrees from Smith College.  She continued piano studies for many years, working with  Estelle Broussard of Dunbarton College in Washington, D.C. and William Masselos, noted concert pianist and faculty member at Julliard School of Music in New York City.