Pianists To Be Announced
____________________
The Annual Piano Festival honors the memory of Elizabeth Dunaway Burnham, founder and first chairperson of Ogunquit Performing Arts.  A pianist herself, Betty studied, performed and taught piano for most of her life.  She also saw to it that OPA acquired its spectacular Steinway Concert Model C Grand Piano, which still remains OPA's greatest treasure.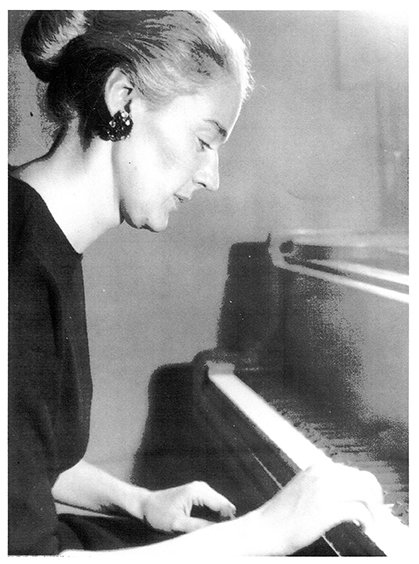 In accordance with his wishes, Sanford Judson Dunaway's daughter,  Elizabeth Dunaway Burnham, requested that the executors include a contribution to Ogunquit to endow a fund for musical performances.  She had long dreamed that Ogunquit could support such a program  to add to its attractiveness as a welcoming place for artists, sculptors and summer theatre.  In November 1978,  the Committee for the Performing Arts was formed and began its work with Betty elected as chairperson.
The Famous OPA Steinway Piano came to the Committee again as a result of Betty Burnham's insight and generosity.  She had been a piano student all her life, receiving music degrees from Smith College.  She continued piano studies for many years, working with  Estelle Broussard of Dunbarton College in Washington, D.C. and William Masselos, noted concert pianist and faculty member at Julliard School of Music in New York City.  Betty taught piano for most of her adult life.
Betty was determined that the Committee should have a piano worthy of the world's major pianists, and donated additional funds for that purpose.  She consulted with New England's most distinguished piano tuner, the late Frank Hanson, and his partner at University Piano Service,  the equally renowned piano technician Vincent D'Errico.  Frank and Vincent bought an abused Steinway from a piano dealer, and set about to completely rebuild it.
Its restoration by Frank and Vincent brought it back to a top quality concert instrument, with a superb, radiant tone. They offered to sell it to OPA at cost, donating their rebuilding services entirely.   The only caveats were that it would be used only for OPA performances, and that they would continue to tune and see to its occasional repair needs, again donating their services.  And so it was.  Vincent continues the tradition, and is currently serving as a member of the Committee.  The 125 year-old, glorious Steinway continues to win enthusiastic acclaim from both pianists and audiences.