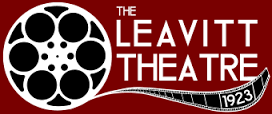 The LEAVITT THEATRE celebrates Capriccio with live entertainment and the screening of special films during the Festival.  On Monday, September 11, Capriccio Night at the Leavitt will present Live Jazz with Joe Rillo, 10 pm to 12 am.   A special film celebrating the Capriccio arts theme will also be scheduled along with other musical events during that week, details yet to be announced.
Leavitt Theatre, 259 Main Street, is Ogunquit's oldest theatre, playing first run movies and showcasing live entertainment and live music from spring to fall.  Since 1923 the Leavitt has shown first run films. The Leavitt  now offers  state-of-the-art digital cinema technology for first-run films, art films, and classics.  .The Leavitt also offers a full bar and dinner menu with service in the redesigned balcony lounge.
For more information, visit  www.leavittheatre.com.