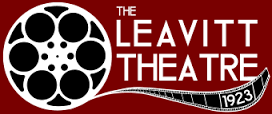 The Leavitt Fine Arts Theatre celebrates Capriccio with the screening of special films during the Festival.
On Thursday, September 8th @ 8 pm, the Leavitt presents the Maine Outdoor Festival, showcasing a collection of short films celebrating the active outdoor community. The festival is based in Maine, but  accepts submissions from all over the world.
The following Thursday, September 15th @ 8 pm, the Leavitt will present "The Winning of Barbara Worth", a silent film with live keyboard accompaniment by  Jeff Rapsis.  The 1926 film stars Ronald Colman, Gary Cooper, and Vilma Banky, with direction by Henry King.
The Leavitt Fine Arts Theatre, 259 Main Street,  is Ogunquit's oldest and only historic cinema. Since 1923 the Leavitt has shown first run films. The Leavitt  now offers  state-of-the-art digital cinema technology for first-run films, art films, and classics.  It also presents live entertainment, with beer and wine available in the balcony section.
Admission is $10, all seats.   For more information, visit  www.leavittheatre.com.