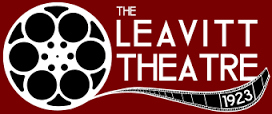 The Leavitt Fine Arts Theatre, 259 Main Street, is Ogunquit's oldest and only historic cinema. Since 1923 the Leavitt has shown first run films. The Leavitt now offers state-of-the-art digital cinema technology for first-run films, art films, and classics. It also presents live entertainment, with beer and wine available in the balcony section.
Films to be run during Capriccio include a unique Harry Langdon Silent Comedy on Thursday, September 17 at 8:00 pm. This silent film features the acclaimed comedic style of Harry Langdon whose innocent baby-faced character rocketed to fame late in the silent era on the strength of films directed by a very young Frank Capra. Silent film with live accompanist Jeff Rapsis.
Admission is $10, all seats.
Tours of the Leavitt are available on Friday, September 18 at 6:30 pm.