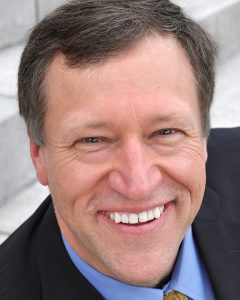 OGUNQUIT PERFORMING ARTS opens the Capriccio Festival on Friday, September 8th at 8:00 pm at the Dunaway Center, presenting the international bass-baritone Erik Kroncke in a program entitled "Broadway Songs and Opera Favorites".  From "South Pacific" to "Don Giovanni", Erik Kroncke explores music written for the bass voice in opera, songs, and musical theater.  Accompanied by pianist Mary Jane Austin, Kroncke covers many composers, genres, and styles, guaranteeing that his audience will hear both familiar favorites and new discoveries.
The personable baritone provides an engaging, anecdotal  presentation of each song, conversing with the audience about the situation and setting.  Mary Jane Austin's magical playing goes from the subtle nuance of song to the bombast of a complete orchestra. The music written for bass uses the full range of voice from the extremely low to high and Erik and Mary Jane flesh out the music to its fullest extent and emotional impact, from the light-hearted to the tragic.  The memorable musical evening features the music of Mozart, Verdi, Puccini, Gershwin, Rodgers and Hammerstein, and Cole Porter.
Since his debut in 2000, Erik Kroncke's unique bass voice has been in demand by opera companies and orchestras all over the world.  His symphonic and oratorio performances have included engagements with the New York Philharmonic, Danbury Symphony Orchestra, Chautauqua Symphony, Vermont Philharmonic, and the American Classical Orchestra in such varied repertoire as the Shostakovich 13th, Haydn's the Seasons, as well as "The Three Basses" concerts.
He was the American Wagner and St. Bonaventura award winner from the Liederkranz competition in 2008. The same year, he made his South Korea debut with the Korean W Philharmonic in Seoul as the bass soloist in Beethoven's 9th symphony as well as his debut with Opera San José as Gremin in Eugene Onegin.
Mr. Kroncke has been heard in such varied repertoire as Sarastro in Die Zauberflöte, Gremin in Eugene Onegin, Ramphis in Aida, Commendatore in Don Giovanni, Philip and the Grand Inquisitor in Don Carlos, Hunding in Die Walküre, and Daland in Der Fliegende Holländer. He has appeared with many companies including the Sarasota Opera, Opera San José, Chautauqua Opera, Green Mountain Opera, Bronx Opera, Austin Lyric Opera, Opera Theater of the Rockies, Hudson Opera Theater, Delaware Valley Opera, New Jersey Verismo Opera, Lyric Opera Virginia, and Opera in the Heights.
Enjoy the beautiful voice of this multi-talented performer in "Broadway Songs and Opera Favorites" on Friday, September 8, 2017 at 8:00 pm, at the Dunaway Center, 23 School Street, Ogunquit.
Tickets are $18 in advance, $20 at the door, $5 Student, and may be purchased at the Dunaway Center,  Ogunquit Camera Shop, Ogunquit Playhouse Downtown Box Office, Ogunquit Welcome Center, OR ONLINE.