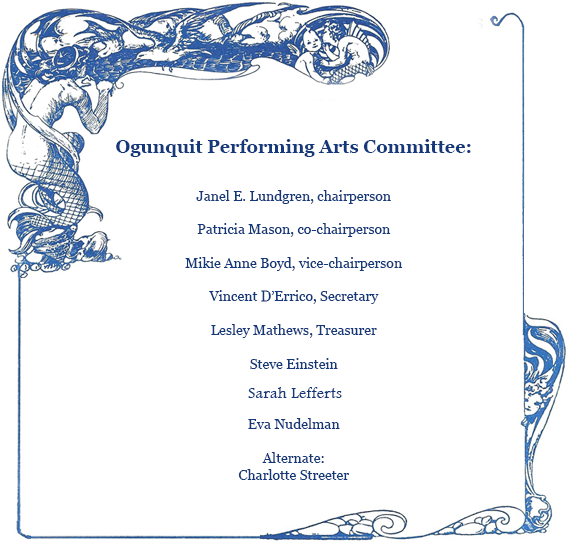 Original letterhead and logo by Val Thelin
Ogunquit Performing Arts Celebrates its 40th Anniversary!
Established as a Committee of the Town of Ogunquit in November, 1978, Ogunquit Performing Arts has achieved 40 years of realizing its mission and the  vision of S. Judson Dunaway and his daughter Elizabeth:  to bring to Ogunquit and Southern Maine the highest professional quality of regional, national and international performing artists, and present them to the community at affordable ticket prices.
Over the last 40 years, this all-volunteer committee has presented some 500 performances by more than 2000 artists, showcasing the disciplines of classical music (symphony, chamber music, and solo concerts); classical piano concerts;  the art of jazz (solo piano, groups and bands); vocal music from opera and Broadway to country, blues, folk and pop; choral ensembles, Christmas singers, gospel groups; the art of the  dance, (including ballet, Irish, folk and ethnic);  theatre (from Shakespeare to light comedy);  and multiple military and concert bands.